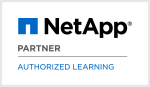 Van Data ONTAP 7-mode naar ONTAP 9 (ONTAP9WS)
Course Overview
Deze eendaagse workshop behandelt de verschillen tussen Data ONTAP 7-mode en ONTAP 9. In het eerste deel van de workshop worden de concepten en features van Clustered Data ONTAP besproken ten opzichte van 7-Mode. In het tweede deel worden de nieuwe features van ONTAP9 uitgelicht. De theorie wordt afgewisseld met korte demo's en oefeningen.
Who Should Attend
Deze workshop is bedoeld voor storagebeheerders die ruime ervaring hebben met Data ONTAP 7-Mode en een overzicht willen krijgen van de mogelijkheden met ONTAP 9. Deze workshop is ook geschikt voor beheerders die ervaring met Clustered Data ONTAP hebben en zich willen informeren over de nieuwe features van ONTAP9.
Course Content
De workshop behandelt de volgende onderwerpen:
Module 1 - What do 7-Mode and CDOT have in Common?
Loader and Compact Flash
Rootfs and Varfs
Vol0
Shell-modes
Aggregates, Plexes, Raidgroups
Volumes and Qtrees
Module 2 - CDOT Architecture and Concepts
HA-Interconnect and Cluster-Interconnect
Storage Virtual Machines and Namespaces
IPSpaces, Broadcastdomains and Subnets
Replicated Databases
Three shells
Concistency Points
Module 3 - New Features in ONTAP 9.x
Raid Tec
Inline Adaptive Compression
Advanced Drive Partitioning
Snaplock
Snapmirror for SVM (Svm DR)
FlexGroups
MetroCluster updates
Klik op de plaats & boek online
Beschikbare data
Trainingen gemarkeerd met het groene vinkje vinden gegarandeerd plaats. Fast Lane levert alle gegarandeerde trainingen uit, ongeacht het aantal ingeschreven studenten. Alleen in geval van overmacht of andere onverwachte gebeurtenissen, zoals ongelukken of ziekte van de docent, kan het voorkomen dat de training niet plaatsvindt.