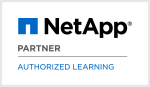 Basic NetApp Configuration and Administration (BNCA)
Who Should Attend
NetApp customers, IT generalists, and academic alliance students
Prerequisites
Storage Fundamentals WBT
Introduction to NetApp Products WBT
Course Objectives
By the end of this course you should be able to:
Explain features of the Data ONTAP operating system
Use the CLI and OnCommand System Manager to identify storage components
Configure storage systems and storage virtual machines (SVMs) for NAS and SAN client access
Create FlexVol volumes, qtrees, and LUNs
Manage Snapshot copies and FlexClone software
Manage volume move and storage efficiency
Follow On Courses
Course Content
Learn how to configure the basic technologies of the NetApp Data ONTAP® operating system—clustered Data ONTAP and Data ONTAP operating in 7-Mode. Through lectures and hands-on exercises, learn how to create aggregates, storage virtual machines (SVMs), virtual interfaces (VIFs), FlexVol® volumes, qtrees, Snapshot® copies, and more.
NOTE: The term "storage virtual machine (SVM)" is equivalent to the term "virtual server (Vserver)".
Klassikale training
Duur 2 dagen
Prijs
(excl. BTW)
Nederland:

1.800,- €

België:

1.800,- €




NetApp Training Units:

24 NTU
Klik op de plaats & boek online
Beschikbare data
Trainingen gemarkeerd met het groene vinkje vinden gegarandeerd plaats. Fast Lane levert alle gegarandeerde trainingen uit, ongeacht het aantal ingeschreven studenten. Alleen in geval van overmacht of andere onverwachte gebeurtenissen, zoals ongelukken of ziekte van de docent, kan het voorkomen dat de training niet plaatsvindt.
Instructor-Led Online Training
Trainingen gemarkeerd met het groene blad zijn
FLEX
-trainingen: trainingen die zowel klassikaal als online gevolgd kunnen worden. U kiest zelf de door u gewenste leervorm.
18-09-2019 - 19-09-2019

FLEX-training

Dit is een FLEX-training in Engels.

Tijdzone: Asia/Jerusalem

boek direct

30-09-2019 - 01-10-2019

FLEX-training

Dit is een FLEX-training in Engels.

Tijdzone: Europe/Sofia

boek direct

10-10-2019 - 11-10-2019

FLEX-training

Dit is een FLEX-training in Engels.

Tijdzone: Europe/London

boek direct

10-11-2019 - 11-11-2019

FLEX-training

Dit is een FLEX-training in Engels.

Tijdzone: Asia/Jerusalem

boek direct

23-12-2019 - 24-12-2019

FLEX-training

Dit is een FLEX-training in Engels.

Tijdzone: Europe/London

boek direct

29-01-2020 - 30-01-2020

FLEX-training

Dit is een FLEX-training in Engels.

Tijdzone: Europe/London

boek direct

06-04-2020 - 07-04-2020

FLEX-training

Dit is een FLEX-training in Engels.

Tijdzone: Europe/London

boek direct

18-06-2020 - 19-06-2020

FLEX-training

Dit is een FLEX-training in Engels.

Tijdzone: Europe/London

boek direct
Europa
Duitsland
Bulgarije
30-09-2019 - 01-10-2019

FLEX-training

Dit is een FLEX-training in Engels.

Tijdzone: Europe/Sofia

boek direct
Groot-Brittannië
10-10-2019 - 11-10-2019

FLEX-training

Dit is een FLEX-training in Engels.

Tijdzone: Europe/London

boek direct

23-12-2019 - 24-12-2019

FLEX-training

Dit is een FLEX-training in Engels.

Tijdzone: Europe/London

boek direct

29-01-2020 - 30-01-2020

FLEX-training

Dit is een FLEX-training in Engels.

Tijdzone: Europe/London

boek direct

06-04-2020 - 07-04-2020

FLEX-training

Dit is een FLEX-training in Engels.

Tijdzone: Europe/London

boek direct

18-06-2020 - 19-06-2020

FLEX-training

Dit is een FLEX-training in Engels.

Tijdzone: Europe/London

boek direct
Verenigde Staten & Canada
Verenigde Staten
03-09-2019 - 04-09-2019

Gegarandeerd

Online Training

Tijdzone: US/Central

Taal: Engels

boek direct

24-10-2019 - 25-10-2019

Gegarandeerd

Online Training

Tijdzone: US/Central

Taal: Engels

boek direct

25-11-2019 - 26-11-2019

Online Training

Tijdzone: US/Central

Taal: Engels

boek direct
Canada
24-10-2019 - 25-10-2019

Online Training

Tijdzone: Canada/Central

Taal: Engels

boek direct
Latijns-Amerika
Mexico
18-11-2019 - 19-11-2019

Online Training

Tijdzone: America/Mexico_City

Taal: Spanje

boek direct
Azië / Pacific
India
03-09-2019 - 04-09-2019

FLEX-training

Dit is een FLEX-training in Engels.

Tijdzone: Asia/Calcutta

boek direct

03-10-2019 - 04-10-2019

FLEX-training

Dit is een FLEX-training in Engels.

Tijdzone: Asia/Calcutta

boek direct

04-11-2019 - 05-11-2019

FLEX-training

Dit is een FLEX-training in Engels.

Tijdzone: Asia/Calcutta

boek direct

02-12-2019 - 03-12-2019

FLEX-training

Dit is een FLEX-training in Engels.

Tijdzone: Asia/Calcutta

boek direct
Midden Oosten
Israel
18-09-2019 - 19-09-2019

FLEX-training

Dit is een FLEX-training in Engels.

Tijdzone: Asia/Jerusalem

boek direct

10-11-2019 - 11-11-2019

FLEX-training

Dit is een FLEX-training in Engels.

Tijdzone: Asia/Jerusalem

boek direct