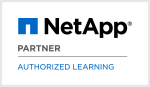 ONTAP Cluster Installation Workshop (COIW)
Who Should Attend
NetApp and partner PSEs who are responsible for system installation
Certifications
This course is part of the following Certifications:
Prerequisites
Clustered Data ONTAP Fundamentals
Clustered Data ONTAP 8.3 Update Curriculum
Clustered Data ONTAP 8.3 New Features
What's New in Data ONTAP 8.3 Licensing
OR
Clustered Data ONTAP Fundamentals
Clustered Data ONTAP Administration (3-day ILT course on Data ONTAP 8.3)
Course Objectives
By the end of this course, you should be able to:
Complete pre-installation tasks
Explain clustered Data ONTAP terminology
List the cluster cabling options and restrictions
Install and update cluster and management switches
Install, configure, and test a two-node switched cluster
Provide a customer with the appropriate information when you are handing off a system
Course Content
This course prepares you to deliver clustered Data ONTAP® system installation services in a way that meets NetApp® quality standards and uses NetApp best practices. With your laptop and the appropriate tools, you practice all installation tasks and set up NetApp equipment in a clustered configuration. You learn how to set up and test access to the system and the AutoSupport connection, and you learn how to conduct a customer briefing.
Klassikale training
Duur 2 dagen
Prijs
(excl. BTW)
Nederland:

2.700,- €

België:

2.700,- €

NetApp Training Units:

36 NTU
Beschikbare data
Klik op de plaats & boek online
Beschikbare data
Trainingen gemarkeerd met het groene blad zijn
FLEX
-trainingen: trainingen die zowel klassikaal als online gevolgd kunnen worden. U kiest zelf de door u gewenste leervorm.
FLEX-trainingen

Een FLEX-training is een Engelstalige training die plaatsvindt in één van de Fast Lane-trainingscentra in Europa en die online gevolgd kan worden vanaf uw eigen locatie. Bekijk hieronder alle beschikbare FLEX-data.

12-02-2018 - 13-02-2018

FLEX-training

Dit is een FLEX-training in Engels.

Tijdzone: Europe/Ljubljana

US$ 1.440,-

boek direct

09-04-2018 - 10-04-2018

FLEX-training

Dit is een FLEX-training in Engels.

Tijdzone: Europe/Prague

US$ 1.440,-

boek direct

24-09-2018 - 25-09-2018

FLEX-training

Dit is een FLEX-training in Engels.

Tijdzone: Europe/Bratislava

US$ 1.440,-

boek direct

19-11-2018 - 20-11-2018

FLEX-training

Dit is een FLEX-training in Engels.

Tijdzone: Europe/Bucharest

boek direct