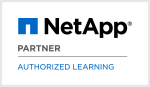 Designing the FlexPod Solution (FPDESIGN)
Who Should Attend
Network Engineers
Network Administrators
System Engineers
Server Administrators
Prerequisites
Basic understanding of storage operations
Basic knowledge of server and server virtualization
General knowledge of networking technologies
Course Objectives
Describe the FlexPod Solution
Identify FlexPod Design Requirements
Identify the supported Cisco UCS components
Identify the supported NetApp storage components
Identify the supported Cisco Nexus components
Describe the FlexPod topology options
Describing FlexPod validated management solutions
Describe the FlexPod use case with VMware vSphere 6.0 and IP-Based Storage
Describe the FlexPod use case with Red Hat Enterprise Linux OpenStack
Follow On Courses
Course Content
Designing the FlexPod Solution is a 2-day instructor-led course where you will learn to evaluate the FlexPod solution design process with regard to the contemporary data center challenges. The course provides a comprehensive understanding of the reconnaissance and analytics assess computing solution performance characteristics and requirements. In addition, this course will describe the hardware components of the FlexPod and the process for selecting proper hardware for a given set of requirements.
Updated features:
Cisco UCS
Cisco ACI Architecture
Nexus 9k
Microsoft Hyper-V and VMware 6
Red Hat Linux OpenStack
Klassikale training
Duur 2 dagen
Prijs
(excl. BTW)
Nederland:

1.800,- €

België:

1.800,- €




NetApp Training Units:

24 NTU
Beschikbare data
Klik op de plaats & boek online
Beschikbare data
Trainingen gemarkeerd met het groene vinkje vinden gegarandeerd plaats. Fast Lane levert alle gegarandeerde trainingen uit, ongeacht het aantal ingeschreven studenten. Alleen in geval van overmacht of andere onverwachte gebeurtenissen, zoals ongelukken of ziekte van de docent, kan het voorkomen dat de training niet plaatsvindt.
Instructor-Led Online Training
Trainingen gemarkeerd met het groene blad zijn
FLEX
-trainingen: trainingen die zowel klassikaal als online gevolgd kunnen worden. U kiest zelf de door u gewenste leervorm.
FLEX-trainingen

Een FLEX-training is een Engelstalige training die plaatsvindt in één van de Fast Lane-trainingscentra in Europa en die online gevolgd kan worden vanaf uw eigen locatie. Bekijk hieronder alle beschikbare FLEX-data.

29-04-2019 - 30-04-2019

FLEX-training

Dit is een FLEX-training in Engels.

Tijdzone: Europe/London

boek direct

12-05-2019 - 13-05-2019

FLEX-training

Dit is een FLEX-training in Engels.

Tijdzone: Asia/Jerusalem

boek direct

03-06-2019 - 04-06-2019

FLEX-training

Dit is een FLEX-training in Engels.

Tijdzone: Europe/Bratislava

boek direct

15-07-2019 - 16-07-2019

FLEX-training

Dit is een FLEX-training in Engels.

Tijdzone: Europe/London

boek direct

23-09-2019 - 24-09-2019

FLEX-training

Dit is een FLEX-training in Engels.

Tijdzone: Europe/Prague

boek direct

04-11-2019 - 05-11-2019

FLEX-training

Dit is een FLEX-training in Engels.

Tijdzone: Europe/London

boek direct

11-11-2019 - 12-11-2019

FLEX-training

Dit is een FLEX-training in Engels.

Tijdzone: Europe/Sofia

boek direct
Verenigde Staten & Canada
Verenigde Staten
25-03-2019 - 26-03-2019

Gegarandeerd

Online Training

Tijdzone: US/Central

Taal: Engels

boek direct

15-04-2019 - 16-04-2019

Online Training

Tijdzone: US/Central

Taal: Engels

boek direct

13-05-2019 - 14-05-2019

Online Training

Tijdzone: US/Pacific

Taal: Engels

boek direct

22-07-2019 - 23-07-2019

Online Training

Tijdzone: US/Eastern

Taal: Engels

boek direct

16-09-2019 - 17-09-2019

Online Training

Tijdzone: US/Central

Taal: Engels

boek direct

28-10-2019 - 29-10-2019

Online Training

Tijdzone: US/Pacific

Taal: Engels

boek direct

16-12-2019 - 17-12-2019

Online Training

Tijdzone: US/Eastern

Taal: Engels

boek direct
Canada
25-03-2019 - 26-03-2019

Online Training

Tijdzone: Canada/Central

Taal: Engels

boek direct

16-09-2019 - 17-09-2019

Online Training

Tijdzone: Canada/Central

Taal: Engels

boek direct

16-12-2019 - 17-12-2019

Online Training

Tijdzone: Canada/Eastern

Taal: Engels

boek direct
Azië / Pacific
Australië
13-06-2019 - 14-06-2019

FLEX-training

Dit is een FLEX-training in Engels.

Tijdzone: Australia/Melbourne

boek direct

08-08-2019 - 09-08-2019

FLEX-training

Dit is een FLEX-training in Engels.

Tijdzone: Australia/Sydney

boek direct

28-11-2019 - 29-11-2019

FLEX-training

Dit is een FLEX-training in Engels.

Tijdzone: Australia/Melbourne

boek direct
India
27-05-2019 - 28-05-2019

FLEX-training

Dit is een FLEX-training in Engels.

Tijdzone: Asia/Calcutta

boek direct

24-06-2019 - 25-06-2019

FLEX-training

Dit is een FLEX-training in Engels.

Tijdzone: Asia/Calcutta

boek direct

26-08-2019 - 27-08-2019

FLEX-training

Dit is een FLEX-training in Engels.

Tijdzone: Asia/Calcutta

boek direct

23-09-2019 - 24-09-2019

FLEX-training

Dit is een FLEX-training in Engels.

Tijdzone: Asia/Calcutta

boek direct

30-10-2019 - 31-10-2019

FLEX-training

Dit is een FLEX-training in Engels.

Tijdzone: Asia/Calcutta

boek direct

20-11-2019 - 21-11-2019

FLEX-training

Dit is een FLEX-training in Engels.

Tijdzone: Asia/Calcutta

boek direct
Midden Oosten
Israel
12-05-2019 - 13-05-2019

FLEX-training

Dit is een FLEX-training in Engels.

Tijdzone: Asia/Jerusalem

boek direct