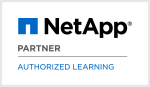 Implementing and Administering the FlexPod Solution (FPIMPADM)
Who Should Attend
The primary audience for this course is as follows:
Network engineers, Network administrators, System engineers and Server administrators
Certifications
This course is part of the following Certifications:
Prerequisites
The knowledge and skills that a learner must have before attending this course are as follows:
General knowledge of networking technologies
CCNA / CCNP Data Center recommended
Basic understanding of NetApp storage operations; NetApp NCDA is recommended
Basic knowledge of server and server virtualization technologies such as VMware ESXi
Course Objectives
Upon completing this course, the learner will be able to meet these overall objectives:
Describe the FlexPod solution
Describe the deployment use case
Describe network features
Describe storage networking features
Describe NetApp key features
Describe Cisco UCS compute
Describe compute node LAN connectivity
Describe identity, resource pools and policies
Describe service profiles and templates
Describe hypervisor and application solutions
Describe management and troubleshooting tools available for FlexPod components
Course Content
FlexPod Implementation and Administration is a 3-day instructor-led course where you will learn to set up, configure and administer the FlexPod architecture. The course provides a comprehensive understanding of the configuration requirements for FlexPod at the network, storage and compute layers of the architecture. You will also learn key implementation procedures, management and basic troubleshooting tasks on the Cisco Nexus 9372, Cisco Unified Computing System (UCS) and NetApp storage.
Updated features:
Cisco Nexus 9372
Cisco UCS Director / Cisco UCS Central
OpenStack
Hyper-V
Klassikale training
Duur 3 dagen
Prijs
(excl. BTW)
Nederland:

2.700,- €

België:

2.700,- €




NetApp Training Units:

36 NTU
Online Training
Duur 3 dagen
Prijs
(excl. BTW)
Nederland:

2.700,- €

België:

2.700,- €
Klik op de plaats & boek online
Beschikbare data
Trainingen gemarkeerd met het groene vinkje vinden gegarandeerd plaats. Fast Lane levert alle gegarandeerde trainingen uit, ongeacht het aantal ingeschreven studenten. Alleen in geval van overmacht of andere onverwachte gebeurtenissen, zoals ongelukken of ziekte van de docent, kan het voorkomen dat de training niet plaatsvindt.
Instructor-Led Online Training
Trainingen gemarkeerd met het groene blad zijn
FLEX
-trainingen: trainingen die zowel klassikaal als online gevolgd kunnen worden. U kiest zelf de door u gewenste leervorm.
Nederland
Op dit moment is deze training in dit land niet beschikbaar in het open rooster. De kans is echter groot dat wij u toch een passende oplossing kunnen bieden. Wij horen graag wat uw specifieke wensen zijn. U bereikt ons via 030 658 2131 of info@flane.nl. We helpen u graag!
FLEX-trainingen

Een FLEX-training is een Engelstalige training die plaatsvindt in één van de Fast Lane-trainingscentra in Europa en die online gevolgd kan worden vanaf uw eigen locatie. Bekijk hieronder alle beschikbare FLEX-data.

18-11-2020 ― 20-11-2020

FLEX-training

Dit is een FLEX-training in Engels.

Tijdzone: Europe/London

boek direct
Europa
Groot-Brittannië
01-07-2020 ― 03-07-2020

Online Training

Tijdzone: Europe/London

Taal:

Engels

boek direct

18-11-2020 ― 20-11-2020

FLEX-training

Dit is een FLEX-training in Engels.

Tijdzone: Europe/London

boek direct

18-11-2020 ― 20-11-2020

Online Training

Tijdzone: Europe/London

Taal:

Engels

boek direct
Verenigde Staten & Canada
Verenigde Staten
13-05-2020 ― 15-05-2020

Gegarandeerd

Online Training

Tijdzone: US/Central

Taal:

Engels

boek direct

02-09-2020 ― 04-09-2020

Gegarandeerd

Online Training

Tijdzone: US/Central

Taal:

Engels

boek direct

28-10-2020 ― 30-10-2020

Online Training

Tijdzone: US/Eastern

Taal:

Engels

boek direct

16-12-2020 ― 18-12-2020

Online Training

Tijdzone: US/Central

Taal:

Engels

boek direct
Canada
13-05-2020 ― 15-05-2020

Gegarandeerd

Online Training

Tijdzone: Canada/Central

Taal:

Engels

boek direct

08-07-2020 ― 10-07-2020

Online Training

Tijdzone: Canada/Pacific

Taal:

Engels

boek direct

02-09-2020 ― 04-09-2020

Online Training

Tijdzone: Canada/Central

Taal:

Engels

boek direct

28-10-2020 ― 30-10-2020

Online Training

Tijdzone: Canada/Eastern

Taal:

Engels

boek direct

16-12-2020 ― 18-12-2020

Online Training

Tijdzone: Canada/Central

Taal:

Engels

boek direct
Azië / Pacific
Australië
13-07-2020 ― 15-07-2020

Online Training

Tijdzone: Australia/Melbourne

Taal:

Engels

boek direct
India
20-04-2020 ― 22-04-2020

Online Training

Tijdzone: Asia/Calcutta

Taal:

Engels

boek direct

24-06-2020 ― 26-06-2020

Online Training

Tijdzone: Asia/Calcutta

Taal:

Engels

boek direct

23-07-2020 ― 25-07-2020

Online Training

Tijdzone: Asia/Calcutta

Taal:

Engels

boek direct

04-09-2020 ― 06-09-2020

Online Training

Tijdzone: Asia/Calcutta

Taal:

Engels

boek direct

19-11-2020 ― 21-11-2020

Online Training

Tijdzone: Asia/Calcutta

Taal:

Engels

boek direct

07-12-2020 ― 09-12-2020

Online Training

Tijdzone: Asia/Calcutta

Taal:

Engels

boek direct