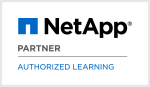 Installing and Configuring StorageGRID Webscale (INCOSGWS)
Who Should Attend
NetApp employees, partners and customers
Prerequisites
Before attending this course, you should complete the following courses:
StorageGRID Webscale Fundamentals (WBT)
ABCs of StorageGRID Webscale
Also ensure that you have a general understanding of the following:
VMware setup and configuration
General Linux-UNIX administration
Course Objectives
Explore the StorageGRID Webscale hardware and software architecture
Review the S3 and Swift API concepts and architecture
Understand how to deploy a StorageGRID Webscale environment
Configure, upgrade, and expand a StorageGRID Webscale system
Run advanced configuration tasks in a StorageGRID Webscale environment
Configure and test StorageGRID Features including multitenancy, erasure coding (EC) and information lifecycle management (ILM) policy
Learn about the different monitoring and administration interfaces and solutions.
Course Content
Through lectures, hands-on exercises and classroom discussion, you discover the StorageGRID architecture and learn the basics of object storage. You will learn how to deploy and implement a StorageGRID Webscale environment for object storage. You will learn how the StorageGRID Webscale UI, CLI, and API can help you implement and integrate the solution. Finally, you will learn some basic troubleshooting and log analysis.
Klassikale training
Duur 3 dagen
Prijs
(excl. BTW)
Nederland:

2.700,- €

België:

2.700,- €




NetApp Training Units:

36 NTU
Klik op de plaats & boek online
Beschikbare data
Trainingen gemarkeerd met het groene blad zijn
FLEX
-trainingen: trainingen die zowel klassikaal als online gevolgd kunnen worden. U kiest zelf de door u gewenste leervorm.
Nederland
Op dit moment is deze training in dit land niet beschikbaar in het open rooster. De kans is echter groot dat wij u toch een passende oplossing kunnen bieden. Wij horen graag wat uw specifieke wensen zijn. U bereikt ons via 030 658 2131 of info@flane.nl. We helpen u graag!
Azië / Pacific
India
06-04-2020 ― 08-04-2020

FLEX-training

Dit is een FLEX-training in Engels.

Tijdzone: Asia/Calcutta

boek direct

29-07-2020 ― 31-07-2020

FLEX-training

Dit is een FLEX-training in Engels.

Tijdzone: Asia/Calcutta

boek direct

12-08-2020 ― 14-08-2020

FLEX-training

Dit is een FLEX-training in Engels.

Tijdzone: Asia/Calcutta

boek direct

21-10-2020 ― 23-10-2020

FLEX-training

Dit is een FLEX-training in Engels.

Tijdzone: Asia/Calcutta

boek direct

15-12-2020 ― 17-12-2020

FLEX-training

Dit is een FLEX-training in Engels.

Tijdzone: Asia/Calcutta

boek direct