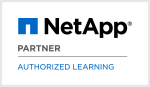 Integrating Hybrid Clouds with NetApp Data Fabric (INTHCDF)
Sign up for this course and receive a free exam voucher!
Who Should Attend
NetApp employees and partners.
Certifications
This course is part of the following Certifications:
Prerequisites
NetApp Certified Data Administrator (NCDA) certification or equivalent knowledge
Cloud Volumes ONTAP Fundamentals
Basic computer networking knowledge
Course Objectives
This course focuses on enabling you to do the following:
Explain the value of the Data Fabric and NetApp Private Storage for Cloud (NPS for Cloud)
Describe NetApp Private Storage (NPS) networking requirements
Deploy a hybrid cloud for customers
Configure an Amazon Virtual Private Cloud (VPC) environment and an Azure Virtual Network (VNet) environment for the hybrid cloud
Use Windows PowerShell in a Data Fabric environment and extend customers' Microsoft Active Directory into the cloud
Explain the features of NetApp Cloud Volumes ONTAP software and NetApp ONTAP Select software
Use NetApp Cloud Central to deploy OnCommand Cloud Manager and Cloud Volumes ONTAP
Create SnapMirror relationships between Cloud Volumes ONTAP and ONTAP in the data center
Use the Cloud Sync service to synchronize NFS data between on-premises storage and cloud-based storage
Follow On Courses
Course Content
This course familiarizes you with NetApp hybrid cloud, Microsoft Azure, and Amazon Web Services (AWS) solutions and shows you how to weave the solutions into the Data Fabric powered by NetApp. In numerous exercises, you use NetApp tools and third-party tools to practice how to manage, move, and protect data throughout the cloud.
Online training
Duur 3 dagen
Prijs
(excl. BTW)
Nederland:

2.700,- €

België:

2.700,- €
Klassikale training
Duur 3 dagen
Prijs
(excl. BTW)
Nederland:

2.700,- €

België:

2.700,- €




NetApp Training Units:

36 NTU
Klik op de plaats & boek online
Beschikbare data
Trainingen gemarkeerd met het groene vinkje vinden gegarandeerd plaats. Fast Lane levert alle gegarandeerde trainingen uit, ongeacht het aantal ingeschreven studenten. Alleen in geval van overmacht of andere onverwachte gebeurtenissen, zoals ongelukken of ziekte van de docent, kan het voorkomen dat de training niet plaatsvindt.
Trainingen gemarkeerd met het gele vinkje vinden gegarandeerd plaats op het moment dat er zich nog 1 student inschrijft voor de desbetreffende training.
Instructor-Led Online Training
Trainingen gemarkeerd met het groene blad zijn
FLEX
-trainingen: trainingen die zowel klassikaal als online gevolgd kunnen worden. U kiest zelf de door u gewenste leervorm.
Nederland
18-05-2020 ― 20-05-2020

Gegarandeerd

Online training

Tijdzone: Europe/Amsterdam

boek direct

07-09-2020 ― 09-09-2020

Utrecht

boek direct

07-12-2020 ― 09-12-2020

Utrecht

boek direct
FLEX-trainingen

Een FLEX-training is een Engelstalige training die plaatsvindt in één van de Fast Lane-trainingscentra in Europa en die online gevolgd kan worden vanaf uw eigen locatie. Bekijk hieronder alle beschikbare FLEX-data.

25-05-2020 ― 27-05-2020

Online training

Tijdzone: Europe/Budapest

Taal:

Engels

boek direct

26-05-2020 ― 28-05-2020

Online training

Tijdzone: Europe/London

Taal:

Engels

boek direct

14-07-2020 ― 16-07-2020

Online training

Dit is een FLEX-training in Engels.

Tijdzone: Europe/London

boek direct

14-07-2020 ― 16-07-2020

Online training

Tijdzone: Europe/London

Taal:

Engels

boek direct

17-08-2020 ― 19-08-2020

Online training

Tijdzone: Europe/Zagreb

Taal:

Engels

boek direct

07-09-2020 ― 09-09-2020

Online training

Tijdzone: Europe/Prague

Taal:

Engels

boek direct

13-10-2020 ― 15-10-2020

Online training

Dit is een FLEX-training in Engels.

Tijdzone: Europe/London

boek direct

13-10-2020 ― 15-10-2020

Online training

Tijdzone: Europe/London

Taal:

Engels

boek direct
Verenigde Staten & Canada
Verenigde Staten
07-04-2020 ― 09-04-2020

Gegarandeerd

Online training

Tijdzone: US/Central

Taal:

Engels

boek direct

12-05-2020 ― 14-05-2020

Online training

Tijdzone: US/Central

Taal:

Engels

boek direct

16-06-2020 ― 18-06-2020

Online training

Tijdzone: US/Central

Taal:

Engels

boek direct

21-07-2020 ― 23-07-2020

Online training

Tijdzone: US/Central

Taal:

Engels

boek direct

01-09-2020 ― 03-09-2020

Online training

Tijdzone: US/Central

Taal:

Engels

boek direct

13-10-2020 ― 15-10-2020

Online training

Tijdzone: US/Central

Taal:

Engels

boek direct

01-12-2020 ― 03-12-2020

Online training

Tijdzone: US/Central

Taal:

Engels

boek direct
Canada
12-05-2020 ― 14-05-2020

Online training

Tijdzone: Canada/Central

Taal:

Engels

boek direct

16-06-2020 ― 18-06-2020

Online training

Tijdzone: Canada/Central

Taal:

Engels

boek direct

21-07-2020 ― 23-07-2020

Online training

Tijdzone: Canada/Central

Taal:

Engels

boek direct

01-09-2020 ― 03-09-2020

Online training

Tijdzone: Canada/Central

Taal:

Engels

boek direct

13-10-2020 ― 15-10-2020

Online training

Tijdzone: Canada/Central

Taal:

Engels

boek direct

01-12-2020 ― 03-12-2020

Online training

Tijdzone: Canada/Central

Taal:

Engels

boek direct
Latijns-Amerika
Brazilië
20-07-2020 ― 22-07-2020

Online training

Tijdzone: America/Sao_Paulo

Taal:

Purtugees

boek direct

14-10-2020 ― 16-10-2020

Online training

Tijdzone: America/Sao_Paulo

Taal:

Purtugees

boek direct
Costa Rica
13-05-2020 ― 15-05-2020

Online training

Tijdzone: America/Costa_Rica

Taal:

Spanje

boek direct

04-11-2020 ― 06-11-2020

Online training

Tijdzone: America/Costa_Rica

Taal:

Spanje

boek direct
Mexico
05-08-2020 ― 07-08-2020

Online training

Dit is een FLEX-training in Spanje.

Tijdzone: America/Mexico_City

boek direct
Azië / Pacific
India
29-04-2020 ― 01-05-2020

Online training

Tijdzone: Asia/Calcutta

Taal:

Engels

boek direct

29-06-2020 ― 01-07-2020

Online training

Tijdzone: Asia/Calcutta

Taal:

Engels

boek direct

15-07-2020 ― 17-07-2020

Online training

Tijdzone: Asia/Calcutta

Taal:

Engels

boek direct

09-09-2020 ― 11-09-2020

Online training

Tijdzone: Asia/Calcutta

Taal:

Engels

boek direct

11-11-2020 ― 13-11-2020

Online training

Tijdzone: Asia/Calcutta

Taal:

Engels

boek direct

07-12-2020 ― 09-12-2020

Online training

Tijdzone: Asia/Calcutta

Taal:

Engels

boek direct