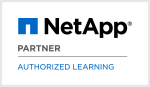 Managing NAS and Performance on Clustered Data ONTAP (NASPAD)
Who Should Attend
Professionals who manage NetApp storage systems and need a deeper understanding of protocols and performance in a clustered Data ONTAP environment.
Prerequisites
The courses below are recommended before attending the Manage NAS and Performance on clustered Data ONTAP class.
Clustered Data ONTAP Administration
Hands-on experience with Data ONTAP (three to six months)
Course Objectives
By the end of this course, you should be able to:
Describe CIFS and NFS protocols
Describe configuration in the clustered Data ONTAP operating system
Use the Data ONTAP PowerShell Toolkit to write PowerShell scripts
Use Data ONTAP operating system to configure home directories
Review performance management for CIFS and NFS environments
Explain troubleshooting techniques for NetApp storage systems and for clients who use the CIFS and NFS protocols
Describe how data flows through the network and protocol layers of clustered Data ONTAP
Define performance-related terms and describe basic methodologies
Identify the methods that can be used to monitor and analyze storage system performance
Explain how methods and tools can be used to collect performance data
Use command output to analyze system performance
Use command output from case studies to identify performance bottlenecks
Implement configuration for recommended practices for resiliency and performance
Locate resources and information that help you maximize system performance
Course Content
This course combines CIFS, NFS, and performance analysis topics into a single, in-depth one-week course. It provides the knowledge and skills that you need to administer CIFS version 1.x to 2.x and NFS versions 3, 4, and 4.1 in a clustered Data ONTAP® operating system. You also learn the skills you need to collect and analyze performance data from NetApp® storage systems.
Online training
Duur 5 dagen
Prijs
(excl. BTW)
Nederland:

4.500,- €

België:

4.500,- €
Klassikale training
Duur 5 dagen
Prijs
(excl. BTW)
Nederland:

4.500,- €

België:

4.500,- €




NetApp Training Units:

60 NTU
Klik op de plaats & boek online
Beschikbare data
Trainingen gemarkeerd met het groene vinkje vinden gegarandeerd plaats. Fast Lane levert alle gegarandeerde trainingen uit, ongeacht het aantal ingeschreven studenten. Alleen in geval van overmacht of andere onverwachte gebeurtenissen, zoals ongelukken of ziekte van de docent, kan het voorkomen dat de training niet plaatsvindt.
Instructor-Led Online Training
Trainingen gemarkeerd met het groene blad zijn
FLEX
-trainingen: trainingen die zowel klassikaal als online gevolgd kunnen worden. U kiest zelf de door u gewenste leervorm.
Nederland
Op dit moment is deze training in dit land niet beschikbaar in het open rooster. De kans is echter groot dat wij u toch een passende oplossing kunnen bieden. Wij horen graag wat uw specifieke wensen zijn. U bereikt ons via 030 658 2131 of info@flane.nl. We helpen u graag!
FLEX-trainingen

Een FLEX-training is een Engelstalige training die plaatsvindt in één van de Fast Lane-trainingscentra in Europa en die online gevolgd kan worden vanaf uw eigen locatie. Bekijk hieronder alle beschikbare FLEX-data.

27-07-2020 ― 31-07-2020

Online training

Dit is een FLEX-training in Engels.

Tijdzone: Europe/London

boek direct

27-07-2020 ― 31-07-2020

Online training

Tijdzone: Europe/London

Taal:

Engels

boek direct

07-09-2020 ― 11-09-2020

Online training

Dit is een FLEX-training in Engels.

Tijdzone: Europe/London

boek direct

07-09-2020 ― 11-09-2020

Online training

Tijdzone: Europe/London

Taal:

Engels

boek direct

02-11-2020 ― 06-11-2020

Online training

Dit is een FLEX-training in Engels.

Tijdzone: Europe/London

boek direct

02-11-2020 ― 06-11-2020

Online training

Tijdzone: Europe/London

Taal:

Engels

boek direct
Europa
Groot-Brittannië
27-07-2020 ― 31-07-2020

Online training

Dit is een FLEX-training in Engels.

Tijdzone: Europe/London

boek direct

27-07-2020 ― 31-07-2020

Online training

Tijdzone: Europe/London

Taal:

Engels

boek direct

07-09-2020 ― 11-09-2020

Online training

Dit is een FLEX-training in Engels.

Tijdzone: Europe/London

boek direct

07-09-2020 ― 11-09-2020

Online training

Tijdzone: Europe/London

Taal:

Engels

boek direct

02-11-2020 ― 06-11-2020

Online training

Dit is een FLEX-training in Engels.

Tijdzone: Europe/London

boek direct

02-11-2020 ― 06-11-2020

Online training

Tijdzone: Europe/London

Taal:

Engels

boek direct
Verenigde Staten & Canada
Verenigde Staten
18-05-2020 ― 22-05-2020

Gegarandeerd

Online training

Tijdzone: US/Eastern

Taal:

Engels

boek direct

22-06-2020 ― 26-06-2020

Online training

Tijdzone: US/Central

Taal:

Engels

boek direct

10-08-2020 ― 14-08-2020

Online training

Dit is een FLEX-training in Engels.

Tijdzone: US/Eastern

boek direct

21-09-2020 ― 25-09-2020

Online training

Tijdzone: US/Central

Taal:

Engels

boek direct

26-10-2020 ― 30-10-2020

Online training

Dit is een FLEX-training in Engels.

Tijdzone: US/Eastern

boek direct

07-12-2020 ― 11-12-2020

Online training

Tijdzone: US/Central

Taal:

Engels

boek direct
Canada
18-05-2020 ― 22-05-2020

Gegarandeerd

Online training

Tijdzone: Canada/Eastern

Taal:

Engels

boek direct

22-06-2020 ― 26-06-2020

Online training

Tijdzone: Canada/Central

Taal:

Engels

boek direct

10-08-2020 ― 14-08-2020

Online training

Tijdzone: Canada/Eastern

Taal:

Engels

boek direct

21-09-2020 ― 25-09-2020

Online training

Tijdzone: Canada/Central

Taal:

Engels

boek direct

26-10-2020 ― 30-10-2020

Online training

Tijdzone: Canada/Eastern

Taal:

Engels

boek direct

07-12-2020 ― 11-12-2020

Online training

Tijdzone: Canada/Central

Taal:

Engels

boek direct

07-12-2020 ― 11-12-2020

Online training

Tijdzone: Canada/Central

Taal:

Engels

boek direct