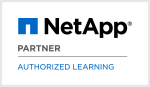 OnCommand Insight: Business Insights (OCIBI)
Who Should Attend
Customers
Infrastructure Engineer
NetApp Partners
Sales Engineers
Course Objectives
Describe general organizational-based reporting needs
Use queries, widgets, and dashboards to display day-to-day operational reporting information
Describe the OnCommand Insight data warehouse structure (DWH)
Address business reporting requirements relating to chargeback, virtualization, and storage pool topics
Describe where to find data warehouse reference documentation and how to maintain a healthy data warehouse
Course Content
In this course you will become familiar with some of the most important features of OnCommand Insight relevant to the day-to-day management, monitoring, and trouble-shooting of data infrastructures. This course concentrates on the reporting features of OnCommand Insight and the OnCommand Insight Data Warehouse. This course demonstrates how to use OnCommand Insight to perform operational reporting that aid in daily administrative tasks. This course will also demonstrate how to use IBM Cognos Workspace Advanced to perform Business Reporting. You will also learn how to create customized reports and a basic understanding of how to extend Insight to meet other business reporting needs.
Online training
Duur 2 dagen
Prijs
(excl. BTW)
Nederland:

1.800,- €

België:

1.800,- €
Klassikale training
Duur 2 dagen
Prijs
(excl. BTW)
Nederland:

1.800,- €

België:

1.800,- €
Klik op de plaats & boek online
Beschikbare data
Instructor-Led Online Training
Trainingen gemarkeerd met het groene blad zijn
FLEX
-trainingen: trainingen die zowel klassikaal als online gevolgd kunnen worden. U kiest zelf de door u gewenste leervorm.
Nederland
Op dit moment is deze training in dit land niet beschikbaar in het open rooster. De kans is echter groot dat wij u toch een passende oplossing kunnen bieden. Wij horen graag wat uw specifieke wensen zijn. U bereikt ons via 030 658 2131 of info@flane.nl. We helpen u graag!
FLEX-trainingen

Een FLEX-training is een Engelstalige training die plaatsvindt in één van de Fast Lane-trainingscentra in Europa en die online gevolgd kan worden vanaf uw eigen locatie. Bekijk hieronder alle beschikbare FLEX-data.

12-04-2020 ― 13-04-2020

Online training

Tijdzone: Africa/Cairo

Taal:

Engels

boek direct

08-09-2020 ― 09-09-2020

Online training

Dit is een FLEX-training in Engels.

Tijdzone: Europe/London

boek direct

08-09-2020 ― 09-09-2020

Online training

Tijdzone: Europe/London

Taal:

Engels

boek direct

14-09-2020 ― 15-09-2020

Online training

Tijdzone: Europe/Zagreb

Taal:

Engels

boek direct

03-12-2020 ― 04-12-2020

Online training

Dit is een FLEX-training in Engels.

Tijdzone: Europe/London

boek direct

03-12-2020 ― 04-12-2020

Online training

Tijdzone: Europe/London

Taal:

Engels

boek direct
Verenigde Staten & Canada
Verenigde Staten
03-06-2020 ― 04-06-2020

Online training

Tijdzone: US/Pacific

Taal:

Engels

boek direct

19-08-2020 ― 20-08-2020

Online training

Tijdzone: US/Central

Taal:

Engels

boek direct

21-10-2020 ― 22-10-2020

Online training

Tijdzone: US/Pacific

Taal:

Engels

boek direct
Canada
03-06-2020 ― 04-06-2020

Online training

Tijdzone: Canada/Pacific

Taal:

Engels

boek direct

19-08-2020 ― 20-08-2020

Online training

Tijdzone: Canada/Central

Taal:

Engels

boek direct

21-10-2020 ― 22-10-2020

Online training

Tijdzone: Canada/Pacific

Taal:

Engels

boek direct
Afrika
Egypte
12-04-2020 ― 13-04-2020

Online training

Tijdzone: Africa/Cairo

Taal:

Engels

boek direct

11-10-2020 ― 12-10-2020

Caïro

Taal:

Engels

boek direct