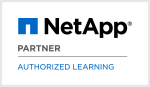 SnapProtect Solution Administration (SPSA)
Who Should Attend
This course is designed for customers, NetApp Professional Services, partners, and Customer Success engineers.
Prerequisites
Technical Overview of the SnapProtect Management Solution WBT
Architecting the SnapProtect Management Solution WBT
Course Objectives
By the end of this course, you should be able to:
Manage the essential CommCell components: resource pools, storage virtual machine (SVM) peers, and disk libraries
Configure SnapProtect software to back up and restore volumes and directories on NAS servers
Back up and restore SQL Server databases
Back up and restore Microsoft Exchange mailbox servers
Back up and restore virtual machines
Update the CommCell to the latest SnapProtect service pack
Perform CommCell management tasks
Course Content
This course prepares you to operate a NetApp® SnapProtect® CommCell with the following clients: NAS, Microsoft SQL, Microsoft Exchange, VMware® vCenter and other virtual server clients. The administrative best practices for trouble-free operation are emphasized throughout the course.
Klassikale training
Duur 2 dagen
Prijs
(excl. BTW)
Nederland:

1.800,- €

België:

1.800,- €




NetApp Training Units:

24 NTU
Klik op de plaats & boek online
Beschikbare data
Trainingen gemarkeerd met het groene blad zijn
FLEX
-trainingen: trainingen die zowel klassikaal als online gevolgd kunnen worden. U kiest zelf de door u gewenste leervorm.
Nederland
Op dit moment is deze training in dit land niet beschikbaar in het open rooster. De kans is echter groot dat wij u toch een passende oplossing kunnen bieden. Wij horen graag wat uw specifieke wensen zijn. U bereikt ons via 030 658 2131 of info@flane.nl. We helpen u graag!
FLEX-trainingen

Een FLEX-training is een Engelstalige training die plaatsvindt in één van de Fast Lane-trainingscentra in Europa en die online gevolgd kan worden vanaf uw eigen locatie. Bekijk hieronder alle beschikbare FLEX-data.

06-04-2020 ― 07-04-2020

FLEX-training

Dit is een FLEX-training in Engels.

Tijdzone: Europe/Bucharest

boek direct

11-05-2020 ― 12-05-2020

FLEX-training

Dit is een FLEX-training in Engels.

Tijdzone: Europe/Budapest

boek direct

08-06-2020 ― 09-06-2020

FLEX-training

Dit is een FLEX-training in Engels.

Tijdzone: Asia/Istanbul

boek direct

11-06-2020 ― 12-06-2020

FLEX-training

Dit is een FLEX-training in Engels.

Tijdzone: Europe/London

boek direct

31-08-2020 ― 01-09-2020

FLEX-training

Dit is een FLEX-training in Engels.

Tijdzone: Europe/Ljubljana

boek direct

24-09-2020 ― 25-09-2020

FLEX-training

Dit is een FLEX-training in Engels.

Tijdzone: Europe/London

boek direct

05-10-2020 ― 06-10-2020

FLEX-training

Dit is een FLEX-training in Engels.

Tijdzone: Europe/Prague

boek direct

02-11-2020 ― 03-11-2020

FLEX-training

Dit is een FLEX-training in Engels.

Tijdzone: Europe/Sofia

boek direct

26-11-2020 ― 27-11-2020

FLEX-training

Dit is een FLEX-training in Engels.

Tijdzone: Europe/London

boek direct

30-11-2020 ― 01-12-2020

FLEX-training

Dit is een FLEX-training in Engels.

Tijdzone: Europe/Zagreb

boek direct