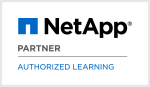 ONTAP MetroCluster Installation (MCCIIW)
Who Should Attend
NetApp customers, partners, and employees
Prerequisites
!

NA-D8CADM

!

NA-DATAPROT
Basic SAN knowledge
Course Objectives
By the end of this course, you should be able to:
Describe the major architectural components of a MetroCluster environment in ONTAP 9
Cable nodes, back-end FC switches and FibreBridge devices
Set up bridges and back-end FC switches
Configure the clusters at both sites in a MetroCluster environment
Set up a MetroCluster configuration and serve data to clients
Detect and recover from failures in a MetroCluster environment
Install and configure Tiebreaker software
Course Content
MetroCluster software is a unique high-availability and disaster-recovery solution. In this advanced course, you learn how to install, configure and administer a MetroCluster environment. Hands-on labs, available in the ONTAP 9 environment, allow you to practice setting up the configuration, identify component failures and practice recovery steps.
Classroom Training
Duration 2 days
Price
(VAT excl.)
The Netherlands:

1,800.- €

Belgium:

1,800.- €




NetApp Training Units:

24 NTU
Click on the location to go directly to the booking page
Schedule
This is a
FLEX
course, which is delivered both virtually and in the classroom.
The Netherlands
Currently no local training dates available. For enquiries please write to info@flane.nl.
FLEX Training

Please see below our alternative, English language, FLEX course options.

13-01-2020 - 14-01-2020

FLEX training

This is an English language FLEX course.

Time zone: Europe/Belgrade

Enroll

24-02-2020 - 25-02-2020

FLEX training

This is an English language FLEX course.

Time zone: Europe/Bratislava

Enroll

23-03-2020 - 24-03-2020

FLEX training

This is an English language FLEX course.

Time zone: Asia/Istanbul

Enroll

11-05-2020 - 12-05-2020

FLEX training

This is an English language FLEX course.

Time zone: Europe/Prague

Enroll

31-08-2020 - 01-09-2020

FLEX training

This is an English language FLEX course.

Time zone: Europe/Sofia

Enroll

26-10-2020 - 27-10-2020

FLEX training

This is an English language FLEX course.

Time zone: Europe/Zagreb

Enroll
Europe
Germany
Bulgaria
31-08-2020 - 01-09-2020

FLEX training

This is an English language FLEX course.

Time zone: Europe/Sofia

Enroll
Croatia
26-10-2020 - 27-10-2020

FLEX training

This is an English language FLEX course.

Time zone: Europe/Zagreb

Enroll
Czech Republic
11-05-2020 - 12-05-2020

FLEX training

This is an English language FLEX course.

Time zone: Europe/Prague

Enroll
Serbia
13-01-2020 - 14-01-2020

FLEX training

This is an English language FLEX course.

Time zone: Europe/Belgrade

Enroll
Slovakia
24-02-2020 - 25-02-2020

FLEX training

This is an English language FLEX course.

Time zone: Europe/Bratislava

Enroll
Switzerland
Turkey
23-03-2020 - 24-03-2020

FLEX training

This is an English language FLEX course.

Time zone: Asia/Istanbul

Enroll
Africa
Egypt
03-05-2020 - 04-05-2020

Cairo

Course Language:

English

Enroll