Award uitgereikt op Cisco Partner Summit in Boston
Fast Lane is Cisco European Learning Partner of the Year 2009
Fast Lane heeft tijdens Cisco Partner Summit 2009 in Boston (Verenigde Staten) een vijftal awards ontvangen, waaronder de award voor Cisco European Learning Partner of the Year 2009.
Thierry Drilhon, Vice President WW Channels European Markets, wijdt het winnen van deze award onder andere aan de grootschalige investeringen die Fast Lane doet in Advanced en Emerging technologies, en de toewijding van Fast Lane om kwalitatief hoogstaande trainingsoplossingen te bieden die op maat gemaakt zijn voor Cisco partners en klanten.
Verder noemt Drilhon de indrukwekkende remote lab infrastructuur van Fast Lane, de implementatie van groene Data Center oplossingen in alle labs en de aanwezigheid van Fast Lane op Cisco events als Cisco Expo, Networkers en het Web2.0 platform Cisco Partner Space. Volgens Drilhon creëert Fast Lane met haar innovatieve marktaanpak bewustwording voor de waarde van geautoriseerde Cisco training en certificering.
Drilhon licht de talent programma's uit die Fast Lane in samenwerking met diverse Cisco teams ontwikkelde om het tekort aan IT-specialisten in de markt terug te brengen. Het Partner Talent Program is hier een voorbeeld van. Fast Lane startte dit programma in 2007 in de Benelux in samenwerking met Cisco Nederland en Randstad IT Services. Het programma heeft tot nu toe 33 gecertificeerde Routing and Switching (CCNP), Voice (!) en Security (!) professionals voortgebracht. Het merendeel hiervan is nu werkzaam bij Cisco Channel Partners in Nederland.
De aanpak van Fast Lane heeft in 2008 gezorgd voor een wereldwijde marktgroei van 30%.
"We zijn trots deze belangrijke award van Cisco te mogen ontvangen, na 5 jaar keihard werken in Europa. Het is een duidelijke bevestiging dat onze partnergerichte aanpak in de Benelux een aantoonbaar toegevoegde waarde heeft voor Cisco en de Cisco Channel Partners", aldus Herman Goedman, directeur, Fast Lane Benelux.
Naast de Cisco European Learning Partner of the Year 2009 award ontving Fast Lane awards voor Excellence in Innovation 2009 op wereldwijd niveau, Excellence in Innovation 2009 op Europees niveau en Japan, en werd Fast Lane onderscheiden als Cisco Learning Partner of the Year 2009 in Emerging Markets.
Met de Excellence in Innovation Award 2009 wordt Fast Lane gewaardeerd voor haar innovatieve trainingprogramma's, voor zowel de inhoud als de leervorm. Fast Lane is wereldwijd actief in de levering van Advanced Technology Provider (ATP) trainingen, zoals TelePresence, Physical Security en Outdoor Wireless Mesh. Daarnaast biedt Fast Lane haar trainingen en programma's online aan.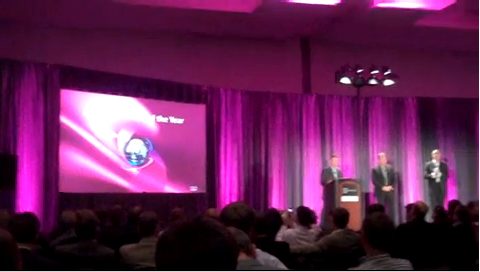 To view this video you need the Adobe Flash Player with JavaScript enabled.Get the Flash Player


Ewerton Vieera, PDM Emerging Countries, Cisco Systems, Torsten Poels, Senior VP & General Manager Europe, Americas & Japan, Fast Lane, Andres Sintes, Director Worldwide Learning Partner Channel, Cisco Systems, Oleg Feldman, Managing Director RCIS/CEE, Fast Lane (van links naar rechts) op Cisco Partner Summit in Boston

Voor meer informatie neemt u contact op met Fast Lane via 030 658 2131 of info@flane.nl