Trainingsaanbod
Trainingen op vendor

Trainingen op technologie

E-learning
Nieuwe Cisco-certificeringen
Met ingang van 24 februari 2020 wijzigt het volledige certificeringsprogramma van Cisco. Er is al veel duidelijk met betrekking tot de precieze wijzigingen, maar Cisco zal in de loop van 2019 nog telkens meer details delen. Op deze pagina bundelen we alle relevante informatie.
Beschik jij of beschikken jouw medewerkers (bijna) over een of meerdere Cisco-certificeringen? Dan is het belangrijk om te weten wat de wijzigingen inhouden. Houd deze pagina dan goed in de gaten, volg ons op LinkedIn of meld je aan voor onze nieuwsbrief.
Twijfel je bij het kiezen van de juiste weg? Wil je graag meer informatie ontvangen? Neem vrijblijvend contact met ons op via 030 658 2131 of info@flane.nl. We helpen je graag verder.
5 juli 2019
De nieuwe Cisco-certificeringen en -examens in 1 overzicht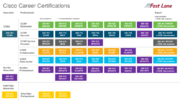 27 juni 2019
Nieuwe Cisco-certificeringen: 8 belangrijke wijzigingen op een rij [blog]
Op 10 juni jl. heeft Cisco een compleet nieuw certificeringsprogramma aangekondigd voor de Cisco-certificeringen CCNA, CCNP en CCIE. Dit nieuwe programma gaat in op 24 februari 2020. Ondanks dat dit nog een aantal maanden duurt, is het nu al belangrijk te weten wat de wijzigingen inhouden en wat dit betekent voor jou als medewerker of voor jouw organisatie.