De digitaliseringsrevolutie van Internet-of-Things
In elk seminar, conferentie of nieuwsbrief van toonaangevende IT-leveranciers neemt Internet-of-Things (IoT) een prominente plek in. Organisaties die er niet in slagen de digitaliseringsrevolutie op te pakken verliezen hun toekomstperspectief. Fast Lane heeft rond het thema IoT een dienstenpakket ontwikkelt, waarin de volgende doelstellingen beoogd worden:
Workshops
De Fast Lane IoT Workshops zijn gericht op het krijgen van inzicht in de IoT wereld en de business-kansen die de digitalisering biedt.
Managed IoT Enablements Services
De Fast Lane Managed Enablement Services helpen leveranciers en system integrators om IoT oplossingen succesvol in de markt neer te zetten, te verkopen en te implementeren. De diensten zijn in het onderstaande schema weergegeven.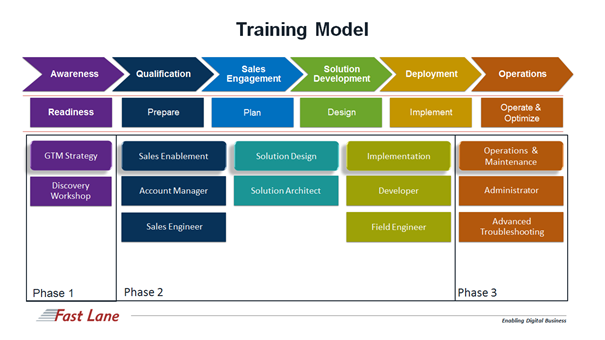 Meer informatie is te vinden op onze IoT-website. Wilt u meer weten of geadviseerd worden over de Fast Lane Managed Enablement Services? Stuur een mailbericht naar info@flane.nl onder vermelding van 'IoT' en u ontvangt zo spoedig mogelijk het document 'Capabilities & Services – Digital Transformation'.
Tags: CCNA, Cisco-trainingen, IMINS2, Internet of Things