AWS Certifications
Fast Lane is the official AWS Training Partner. Our authorized Amazon Web Services training courses help
customers and partners prepare towards achieving the AWS certifications.
On this page we'll show you which courses prepare for which certifications.


Role-Based AWS Certifications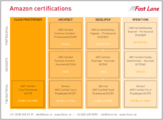 Certification Levels
AWS offers 3 levels of certification: from Foundation, the basic level of certification, to the more advanced level of Associate, up to Professional, the highest certification level.
Certification Roles
Certification can be attained for four roles: Cloud Practitioner, Architect, Developer and Operations.

An overview of the AWS certifications
AWS Specialty Certifications
!

AWS Certified Big Data – Specialty (ACBDS)
Further Information
Would you like to know more about AWS Training and Certifications? Feel free to send us an email or call us on +31 30 658 2131. We'd be glad to assist!