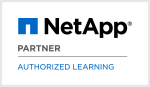 ONTAP SMB Administration (CIFSAD)
Course Overview
This course extends the CIFS information that is found in the ONTAP Cluster Administration course. This course reviews SMB and explores in more detail SMB 3.x and the features of ONTAP 9 software that support the SMB protocol. The exercises are accomplished using ONTAP 9 software.
Who Should Attend
Professionals who implement SMB solutions who use NetApp storage systems.
NetApp employees, channel partners, original equipment manufacturer (OEM) partners, authorized learning partners, and customers.
Prerequisites
ONTAP Cluster Administration

Familiarity with Microsoft Windows Server 2012
Familiarity with Microsoft Active Directory
Course Objectives
This course focuses on enabling you to do the following:
Explain the CIFS and SMB protocol
Demonstrate the Windows PowerShell CLI
Configure SMB features using ONTAP 9 software
Create and manage SMB shares and sessions
Secure SMB sessions
Configure ONTAP for multiprotocol data access
Discuss SMB advanced topics, such as opportunistic locks (oplocks), BranchCache, auditing, group policy, automatic home shares, symbolic links (symlinks), and widelinks [/list}
Classroom Training
Duration 1 day
Price
(VAT excl.)
The Netherlands:

900.- €

Belgium:

900.- €




NetApp Training Units:

12 NTU
Click on the location to go directly to the booking page
Schedule
Courses marked with the green check mark are guaranteed to run. Fast Lane will carry out all guaranteed courses regardless of the number of attendees, apart from force majeure or other unexpected events, like e.g. accidents or illness of the instructor, which prevent the course from being conducted.
This computer icon in the schedule indicates that this date/time will be conducted as Instructor-Led Online Training.
This is a
FLEX
course, which is delivered both virtually and in the classroom.
Europe
Germany
Austria
| | | | |
| --- | --- | --- | --- |
| | 22-06-2020 | Vienna (iTLS) | Enroll |
Bulgaria
06-04-2020

FLEX training

This is an English language FLEX course.

Time zone: Europe/Sofia

Enroll
Croatia
20-01-2020

FLEX training

This is an English language FLEX course.

Time zone: Europe/Zagreb

Enroll
Czech Republic
11-05-2020

FLEX training

This is an English language FLEX course.

Time zone: Europe/Prague

Enroll
Hungary
24-08-2020

FLEX training

This is an English language FLEX course.

Time zone: Europe/Budapest

Enroll
Lithuania
24-02-2020

FLEX training

This is an English language FLEX course.

Time zone: Europe/Vilnius

Enroll
Romania
05-10-2020

FLEX training

This is an English language FLEX course.

Time zone: Europe/Bucharest

Enroll
Slovenia
15-06-2020

FLEX training

This is an English language FLEX course.

Time zone: Europe/Ljubljana

Enroll
United Kingdom
29-11-2019

Guaranteed To Run

Online Training

Time zone: Europe/London

Course Language:

English

Enroll

24-01-2020

FLEX training

This is an English language FLEX course.

Time zone: Europe/London

Enroll

21-02-2020

FLEX training

This is an English language FLEX course.

Time zone: Europe/London

Enroll

20-03-2020

FLEX training

This is an English language FLEX course.

Time zone: Europe/London

Enroll

01-05-2020

FLEX training

This is an English language FLEX course.

Time zone: Europe/London

Enroll

26-06-2020

FLEX training

This is an English language FLEX course.

Time zone: Europe/London

Enroll
North America
United States
02-12-2019

Guaranteed To Run

Online Training

Time zone: US/Pacific

Course Language:

English

Enroll

13-01-2020

Guaranteed To Run

FLEX training

This is an English language FLEX course.

Time zone: US/Eastern

Enroll

24-02-2020

Online Training

Time zone: US/Central

Course Language:

English

Enroll

06-04-2020

Online Training

Time zone: US/Pacific

Course Language:

English

Enroll

18-05-2020

FLEX training

This is an English language FLEX course.

Time zone: US/Eastern

Enroll

22-06-2020

Online Training

Time zone: US/Central

Course Language:

English

Enroll

10-08-2020

FLEX training

This is an English language FLEX course.

Time zone: US/Eastern

Enroll

21-09-2020

Online Training

Time zone: US/Central

Course Language:

English

Enroll

26-10-2020

FLEX training

This is an English language FLEX course.

Time zone: US/Eastern

Enroll