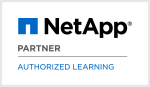 ONTAP Data Protection Administration (ONTAP 9.7) (DATAPROT9)
Who should attend
Network Engineers
Channel Partners
System Engineers
NetApp Customers
Certifications
This course is part of the following Certifications:
Prerequisites
ONTAP Data Protection Fundamentals (web based)
Course Objectives
Describe the data protection features in ONTAP software
Configure SnapMirror® relationships for data replication
Demonstrate storage virtual machine disaster recovery (SVM DR)
Explain MetroCluster™ components and configuration
Configure the SnapVault® feature for disk-to-disk backup and recovery
Describe NDMP-enabled operations to back up NAS data to tape storage
Describe the NetApp SnapCenter® software that is used for ONTAP data protection management
Explain cloud-based data protection with NetApp Cloud Volumes ONTAP
Course Content
This course introduces some of the key concepts and techniques for protecting data on NetApp® ONTAP® systems. You learn about the different data protection solutions that are integrated in ONTAP software. You also learn about the tools for managing ONTAP data protection features. In the hands-on exercises, you use ONTAP System Manager and the CLI to execute key data protection tasks. This course is updated for ONTAP 9.7.
Online training
Duur 2 dagen
Prijs
(excl. BTW)
Klassikale training
Duur 2 dagen
Prijs
(excl. BTW)
Nederland:

1.800,- €

België:

1.800,- €

NetApp Training Units:

24 NTU
Beschikbare data
Trainingen gemarkeerd met het groene vinkje vinden gegarandeerd plaats. Fast Lane levert alle gegarandeerde trainingen uit, ongeacht het aantal ingeschreven deelnemers. Alleen in geval van overmacht of andere onverwachte gebeurtenissen, zoals ongelukken of ziekte van de trainer, kan het voorkomen dat de training niet plaatsvindt.
Instructor-led Online Training: Dit is een Instructor-Led Online (ILO) training: een online training verzorgd door een trainer.
Trainingen gemarkeerd met het groene blad zijn
FLEX
-trainingen: trainingen die zowel klassikaal als online gevolgd kunnen worden. Je kiest zelf de gewenste leervorm.
Nederlands
Tijdzone Central European Time (CET)
Engels
Tijdzone Central European Time (CET)
1 uur tijdsverschil
6 uur tijdsverschil
7 uur tijdsverschil
9 uur tijdsverschil
10 uur tijdsverschil
Online training
Tijdzone: Australian Eastern Daylight Saving Time (AEDT)
Gegarandeerde doorgang
Frans
Tijdzone Central European Time (CET)
Online training
Dit is een FLEX-training in het Frans.


Tijdzone: Central European Summer Time (CEST)
Online training
Dit is een FLEX-training in het Frans.


Tijdzone: Central European Summer Time (CEST)
Online training
Dit is een FLEX-training in het Frans.


Tijdzone: Central European Time (CET)
Duits
Tijdzone Central European Time (CET)
Italiaans
Tijdzone Central European Time (CET)
Online training
Dit is een FLEX-training in het Italiaans.


Tijdzone: Central European Summer Time (CEST)
Online training
Dit is een FLEX-training in het Italiaans.


Tijdzone: Central European Summer Time (CEST)
Online training
Dit is een FLEX-training in het Italiaans.


Tijdzone: Central European Summer Time (CEST)
Online training
Dit is een FLEX-training in het Italiaans.


Tijdzone: Central European Time (CET)
Spaans
Tijdzone Central European Time (CET)
7 uur tijdsverschil