Fast Lane verzorgt FLEX-trainingen: trainingen die zowel online als klassikaal verzorgd worden
Geen reis- en verblijfkosten, online trainen, ruime keuze uit gegarandeerde trainingen
Fast Lane verzorgt
FLEX-trainingen: trainingen die zowel online als klassikaal verzorgd worden. De student kiest zelf de gewenste leervorm.
Een training is niet altijd op het voor u juiste moment en op de voor u juiste plaats beschikbaar. Het volgen van de training in het buitenland is vaak geen optie, want een budget voor reis en verblijf is niet beschikbaar. Wat nu?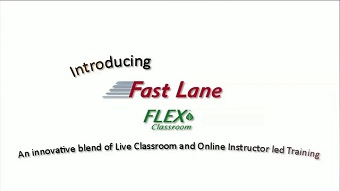 To view this video you need the Adobe Flash Player with JavaScript enabled. Get the Flash Player U kiest voor één van de FLEX-trainingen van Fast Lane in de online leervorm. U volgt de training op de door u gewenste locatie. Thuis of op uw werk bijvoorbeeld. Het enige dat u nodig heeft is een PC of laptop en een internetverbinding. Wij zorgen ervoor dat u uw cursusmateriaal voor aanvang van de training ontvangt.
Wat een FLEX-training van Fast Lane anders maakt dan een reguliere online training, is dat het een combinatie is van een klassikale training en een online training. Sommige cursisten wonen de training bij in het klaslokaal van één van de Fast Lane-trainingcentra, terwijl andere cursisten de training online bijwonen.
Tijdens de training heeft u, via het online FLEX-videoplatform, volop contact met zowel de docent als uw medecursisten. U ontvangt persoonlijke labtoegang, start break-outsessies met de docent of een medecursist en leest mee op het elektronisch whiteboard. Alsof u zelf in het klaslokaal aanwezig bent.
Omdat Fast Lane een geconcentreerd Europees rooster aan FLEX-trainingen heeft opgezet, kennen veel trainingen een gegarandeerde doorgang. Wel zo handig in verband met de planning van uw lopende werkzaamheden en projecten. De FLEX-trainingen van Fast Lane vinden altijd in het Engels plaats, ongeacht de fysieke locatie van de klassikale training.
Een FLEX-training herkent u aan het
groene blad. Een gegarandeerde training herkent u aan het
groene vinkje.
Kortom: waarom kiest u voor de online FLEX-trainingen van Fast Lane?
Geen reis- en verblijfkosten en geen reistijd
Online trainen op de door u gewenste locatie, alsof u in het klaslokaal zit
Ruime keuze uit gegarandeerde, Engelstalige trainingen
Meer weten?
Neem contact met ons op via 030 658 2131 of info@flane.nl. Wij helpen u graag!