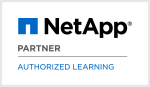 ONTAP Performance Analysis (PERFCDOT)
Who Should Attend
Professionals who manage NetApp storage systems and would like a deeper understanding of ONTAP 9 system performance
Prerequisites
ONTAP Cluster Fundamentals (web based)
ONTAP Cluster Administration (web based)
Hands-on experience with ONTAP software (6 to 12 months)
Course Objectives
Understand how a storage system running ONTAP 9 functions
Identify the commands and tools to use to collect and monitor storage system performance
Interpret performance data and identify hindrances to storage system performance
Use system commands and features to enhance storage system performance and efficiency
Course Content
This course provides you with the knowledge and skills that you need to collect and analyze system performance data from NetApp storage systems that are running ONTAP 9. You will learn how to interpret data and how to identify and implement changes that improve system efficiency. You will also learn how to use system commands and features to monitor and enhance storage system performance by using hands-on exercises, case studies and technical discussion.
Klassikale training
Duur 3 dagen
Prijs
(excl. BTW)
Nederland:

2.700,- €

België:

2.700,- €

NetApp Training Units:

36 NTU
Beschikbare data
Klik op de plaats & boek online
Beschikbare data
Trainingen gemarkeerd met het gele vinkje vinden gegarandeerd plaats op het moment dat er zich nog 1 student inschrijft voor de desbetreffende training.
Instructor-Led Online Training
Trainingen gemarkeerd met het groene blad zijn
FLEX
-trainingen: trainingen die zowel klassikaal als online gevolgd kunnen worden. U kiest zelf de door u gewenste leervorm.
Europa
Duitsland
Bulgarije
14-10-2019 - 16-10-2019

FLEX-training

Dit is een FLEX-training in Engels.

Tijdzone: Europe/Sofia

US$ 1.350,-

boek direct
Groot-Brittannië
25-02-2019 - 27-02-2019

FLEX-training

Dit is een FLEX-training in Engels.

Tijdzone: Europe/London

£ 2.364,-

boek direct

01-04-2019 - 03-04-2019

FLEX-training

Dit is een FLEX-training in Engels.

Tijdzone: Europe/London

£ 2.364,-

boek direct

29-04-2019 - 01-05-2019

FLEX-training

Dit is een FLEX-training in Engels.

Tijdzone: Europe/London

£ 2.364,-

boek direct

17-06-2019 - 19-06-2019

FLEX-training

Dit is een FLEX-training in Engels.

Tijdzone: Europe/London

£ 2.364,-

boek direct

12-08-2019 - 14-08-2019

FLEX-training

Dit is een FLEX-training in Engels.

Tijdzone: Europe/London

£ 2.364,-

boek direct

14-10-2019 - 16-10-2019

FLEX-training

Dit is een FLEX-training in Engels.

Tijdzone: Europe/London

£ 2.364,-

boek direct

25-11-2019 - 27-11-2019

FLEX-training

Dit is een FLEX-training in Engels.

Tijdzone: Europe/London

£ 2.364,-

boek direct
Hongarije
17-06-2019 - 19-06-2019

FLEX-training

Dit is een FLEX-training in Engels.

Tijdzone: Europe/Budapest

US$ 2.700,-

boek direct
Roemenië
06-05-2019 - 08-05-2019

FLEX-training

Dit is een FLEX-training in Engels.

Tijdzone: Europe/Bucharest

boek direct
Slovakia
26-08-2019 - 28-08-2019

FLEX-training

Dit is een FLEX-training in Engels.

Tijdzone: Europe/Bratislava

US$ 2.700,-

boek direct
Slovenië
11-03-2019 - 13-03-2019

FLEX-training

Dit is een FLEX-training in Engels.

Tijdzone: Europe/Ljubljana

US$ 2.700,-

boek direct
Tsjechië
18-11-2019 - 20-11-2019

FLEX-training

Dit is een FLEX-training in Engels.

Tijdzone: Europe/Prague

US$ 2.970,-

boek direct
Turkije
04-02-2019 - 06-02-2019

FLEX-training

Dit is een FLEX-training in Engels.

Tijdzone: Asia/Istanbul

US$ 2.700,-

boek direct
Zwitserland
06-02-2019 - 08-02-2019

FLEX-training

Dit is een FLEX-training in Duits.

Tijdzone: Europe/Zurich

Fr. 2.970,-

english language also possible

boek direct

08-05-2019 - 10-05-2019

Zürich

boek direct

14-08-2019 - 16-08-2019

Zürich

boek direct

04-12-2019 - 06-12-2019

Zürich

boek direct
Verenigde Staten & Canada
Verenigde Staten
Canada
13-03-2019 - 15-03-2019

Online Training

Tijdzone: Canada/Central

Taal: Engels

boek direct

10-07-2019 - 12-07-2019

Online Training

Tijdzone: Canada/Eastern

Taal: Engels

boek direct

11-09-2019 - 13-09-2019

Online Training

Tijdzone: Canada/Central

Taal: Engels

boek direct

06-11-2019 - 08-11-2019

Online Training

Tijdzone: Canada/Central

Taal: Engels

boek direct
Azië / Pacific
Australië
11-02-2019 - 13-02-2019

FLEX-training

Dit is een FLEX-training in Engels.

Tijdzone: Australia/Melbourne

US$ 2.700,-

boek direct

25-03-2019 - 27-03-2019

FLEX-training

Dit is een FLEX-training in Engels.

Tijdzone: Australia/Sydney

US$ 2.700,-

boek direct

15-04-2019 - 17-04-2019

FLEX-training

Dit is een FLEX-training in Engels.

Tijdzone: Australia/Perth

US$ 2.700,-

boek direct

06-05-2019 - 08-05-2019

FLEX-training

Dit is een FLEX-training in Engels.

Tijdzone: Australia/Melbourne

US$ 2.700,-

boek direct

24-06-2019 - 26-06-2019

FLEX-training

Dit is een FLEX-training in Engels.

Tijdzone: Australia/Sydney

US$ 2.700,-

boek direct

29-07-2019 - 31-07-2019

FLEX-training

Dit is een FLEX-training in Engels.

Tijdzone: Australia/Melbourne

US$ 2.700,-

boek direct

14-08-2019 - 16-08-2019

FLEX-training

Dit is een FLEX-training in Engels.

Tijdzone: Australia/Brisbane

US$ 2.700,-

boek direct

09-09-2019 - 11-09-2019

FLEX-training

Dit is een FLEX-training in Engels.

Tijdzone: Australia/Sydney

US$ 2.700,-

boek direct

14-10-2019 - 16-10-2019

FLEX-training

Dit is een FLEX-training in Engels.

Tijdzone: Australia/Melbourne

US$ 2.700,-

boek direct

04-11-2019 - 06-11-2019

FLEX-training

Dit is een FLEX-training in Engels.

Tijdzone: Australia/Sydney

US$ 2.700,-

boek direct
India
25-02-2019 - 27-02-2019

FLEX-training

Dit is een FLEX-training in Engels.

Tijdzone: Asia/Calcutta

US$ 1.350,-

boek direct

25-03-2019 - 27-03-2019

FLEX-training

Dit is een FLEX-training in Engels.

Tijdzone: Asia/Calcutta

US$ 1.350,-

boek direct

12-08-2019 - 14-08-2019

FLEX-training

Dit is een FLEX-training in Engels.

Tijdzone: Asia/Calcutta

US$ 1.350,-

boek direct

16-09-2019 - 18-09-2019

FLEX-training

Dit is een FLEX-training in Engels.

Tijdzone: Asia/Calcutta

US$ 1.350,-

boek direct

28-10-2019 - 30-10-2019

FLEX-training

Dit is een FLEX-training in Engels.

Tijdzone: Asia/Calcutta

US$ 1.350,-

boek direct

27-11-2019 - 29-11-2019

FLEX-training

Dit is een FLEX-training in Engels.

Tijdzone: Asia/Calcutta

US$ 1.350,-

boek direct
Midden Oosten
Israel
01-12-2019 - 03-12-2019

FLEX-training

Dit is een FLEX-training in Engels.

Tijdzone: Asia/Jerusalem

boek direct