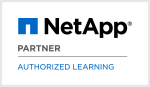 Protecting VMware vSphere (PROVMVSP)
Course Overview
This course describes the deployment of the SnapCenter Plug-in for VMware vSphere. In this course, you learn about the features of the plug-in and learn how to install and perform initial configuration of the plug-in. You also use NetApp SnapCenter software to learn how to protect and restore VMware virtual machines (VMs) and datastores. Through instructor-led presentations and web-based courseware, you gain knowledge about these topics. Hands-on exercises provide you with experience in performing these tasks.
Who Should Attend
NetApp and NetApp partner professional services, system engineers, and customers.
Prerequisites
ONTAP Cluster Administration
Data Protection Administration
SnapCenter Fundamentals
NetApp SnapCenter Administration
Course Objectives
This course focuses on enabling you to do the following:
Describe the features of the Plug-in for VMware vSphere
List supported deployment scenarios
Explain how to use role-based access control (RBAC) features, when given specific scenarios
Outline details for installing the Plug-in for VMware vSphere
List prerequisite tasks before installation
Illustrate NetApp Virtual Storage Console software client plug-in (VSC) host migration to SnapCenter software
Describe data protection strategies for VMware vSphere
Use the Plug-in for VMware vSphere to demonstrate how to back up and restore VMware VMs, Virtual Machine Disks (VMDKs), and datastores
Use the Plug-in for VMware vSphere to identify the steps to mount and unmount a datastore backup
Online training
Duur 1 dagen
Prijs
(excl. BTW)
Nederland:

900,- €

België:

900,- €
Klassikale training
Duur 1 dagen
Prijs
(excl. BTW)
Nederland:

900,- €

België:

900,- €




NetApp Training Units:

12 NTU
Klik op de plaats & boek online
Beschikbare data
Instructor-Led Online Training
Trainingen gemarkeerd met het groene blad zijn
FLEX
-trainingen: trainingen die zowel klassikaal als online gevolgd kunnen worden. U kiest zelf de door u gewenste leervorm.
Nederland
Op dit moment is deze training in dit land niet beschikbaar in het open rooster. De kans is echter groot dat wij u toch een passende oplossing kunnen bieden. Wij horen graag wat uw specifieke wensen zijn. U bereikt ons via 030 658 2131 of info@flane.nl. We helpen u graag!
FLEX-trainingen

Een FLEX-training is een Engelstalige training die plaatsvindt in één van de Fast Lane-trainingscentra in Europa en die online gevolgd kan worden vanaf uw eigen locatie. Bekijk hieronder alle beschikbare FLEX-data.

29-05-2020

Online training

Tijdzone: Europe/London

Taal:

Engels

boek direct

14-06-2020

Online training

Tijdzone: Africa/Cairo

Taal:

Engels

boek direct

01-07-2020

Online training

Tijdzone: Europe/London

Taal:

Engels

boek direct

24-08-2020

Online training

Dit is een FLEX-training in Engels.

Tijdzone: Europe/London

boek direct

24-08-2020

Online training

Tijdzone: Europe/London

Taal:

Engels

boek direct

26-10-2020

Online training

Dit is een FLEX-training in Engels.

Tijdzone: Europe/London

boek direct

26-10-2020

Online training

Tijdzone: Europe/London

Taal:

Engels

boek direct
Europa
Groot-Brittannië
29-05-2020

Online training

Tijdzone: Europe/London

Taal:

Engels

boek direct

01-07-2020

Online training

Tijdzone: Europe/London

Taal:

Engels

boek direct

24-08-2020

Online training

Dit is een FLEX-training in Engels.

Tijdzone: Europe/London

boek direct

24-08-2020

Online training

Tijdzone: Europe/London

Taal:

Engels

boek direct

26-10-2020

Online training

Dit is een FLEX-training in Engels.

Tijdzone: Europe/London

boek direct

26-10-2020

Online training

Tijdzone: Europe/London

Taal:

Engels

boek direct
Verenigde Staten & Canada
Verenigde Staten
29-07-2020

Online training

Tijdzone: US/Eastern

Taal:

Engels

boek direct

04-11-2020

Online training

Tijdzone: US/Central

Taal:

Engels

boek direct
Canada
29-07-2020

Online training

Tijdzone: Canada/Eastern

Taal:

Engels

boek direct

04-11-2020

Online training

Tijdzone: Canada/Central

Taal:

Engels

boek direct
Afrika
Egypte
14-06-2020

Online training

Tijdzone: Africa/Cairo

Taal:

Engels

boek direct

13-12-2020

Caïro

Taal:

Engels

boek direct