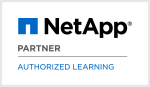 SnapCenter Administration (SCADMIN)
Who Should Attend
NetApp and NetApp Partner Professional Services
Systems Engineers
NetApp Customers
Prerequisites
SnapCenter Fundamentals WBT
Course Objectives
Explain the benefits and relationships between the various components of the SnapCenter solution
Understand the methods to install the SnapCenter server software
Perform SnapCenter configuration of role-based access control, installation of licenses and connections to Storage Virtual Machines
Configure hosts and SnapCenter server Plug-in packages
Prepare data protection relationships for SnapCenter
Perform backup and restore of Windows data
Understand monitoring and managing capabilities of the SnapCenter server
Course Content
This course covers the deployment of the SnapCenter 4.0 server. In this course you will learn how to install, monitor and manage the SnapCenter server. How to install and use licenses and Role Based Access control will be covered as well as the installation of the SnapCenter Plug-ins for Linux, Oracle, and Windows. You will learn how to prepare hosts and connect to the ONTAP storage system. The course also covers backup and restore of Windows file system data as well as the configuration of SnapMirror and SnapVault relationships for use with SnapCenter software. The course materials include a lab workbook that will serve as an on-the-job reference guide.
Klassikale training
Duur 3 dagen
Prijs
(excl. BTW)
Nederland:

2.700,- €

België:

2.700,- €




NetApp Training Units:

36 NTU
Klik op de plaats & boek online
Beschikbare data
Instructor-Led Online Training
Trainingen gemarkeerd met het groene blad zijn
FLEX
-trainingen: trainingen die zowel klassikaal als online gevolgd kunnen worden. U kiest zelf de door u gewenste leervorm.
Nederland
Op dit moment is deze training in dit land niet beschikbaar in het open rooster. De kans is echter groot dat wij u toch een passende oplossing kunnen bieden. Wij horen graag wat uw specifieke wensen zijn. U bereikt ons via 030 658 2131 of info@flane.nl. We helpen u graag!
FLEX-trainingen

Een FLEX-training is een Engelstalige training die plaatsvindt in één van de Fast Lane-trainingscentra in Europa en die online gevolgd kan worden vanaf uw eigen locatie. Bekijk hieronder alle beschikbare FLEX-data.

23-03-2020 ― 25-03-2020

FLEX-training

Dit is een FLEX-training in Engels.

Tijdzone: Europe/Ljubljana

boek direct

25-05-2020 ― 27-05-2020

FLEX-training

Dit is een FLEX-training in Engels.

Tijdzone: Europe/Bucharest

boek direct

08-06-2020 ― 10-06-2020

FLEX-training

Dit is een FLEX-training in Engels.

Tijdzone: Europe/London

boek direct

24-08-2020 ― 26-08-2020

FLEX-training

Dit is een FLEX-training in Engels.

Tijdzone: Europe/Bratislava

boek direct

21-09-2020 ― 23-09-2020

FLEX-training

Dit is een FLEX-training in Engels.

Tijdzone: Europe/London

boek direct

23-11-2020 ― 25-11-2020

FLEX-training

Dit is een FLEX-training in Engels.

Tijdzone: Europe/London

boek direct

23-11-2020 ― 25-11-2020

FLEX-training

Dit is een FLEX-training in Engels.

Tijdzone: Europe/Sofia

boek direct
Verenigde Staten & Canada
Verenigde Staten
13-04-2020 ― 15-04-2020

Online Training

Tijdzone: US/Central

Taal:

Engels

boek direct

27-05-2020 ― 29-05-2020

Online Training

Tijdzone: US/Eastern

Taal:

Engels

boek direct

07-07-2020 ― 09-07-2020

Online Training

Tijdzone: US/Central

Taal:

Engels

boek direct

09-09-2020 ― 11-09-2020

Online Training

Tijdzone: US/Eastern

Taal:

Engels

boek direct

13-10-2020 ― 15-10-2020

Online Training

Tijdzone: US/Pacific

Taal:

Engels

boek direct

02-12-2020 ― 04-12-2020

Online Training

Tijdzone: US/Eastern

Taal:

Engels

boek direct
Canada
13-04-2020 ― 15-04-2020

Online Training

Tijdzone: Canada/Central

Taal:

Engels

boek direct

27-05-2020 ― 29-05-2020

Online Training

Tijdzone: Canada/Eastern

Taal:

Engels

boek direct

07-07-2020 ― 09-07-2020

Online Training

Tijdzone: Canada/Central

Taal:

Engels

boek direct

09-09-2020 ― 11-09-2020

Online Training

Tijdzone: Canada/Eastern

Taal:

Engels

boek direct

13-10-2020 ― 15-10-2020

Online Training

Tijdzone: Canada/Pacific

Taal:

Engels

boek direct

02-12-2020 ― 04-12-2020

Online Training

Tijdzone: Canada/Eastern

Taal:

Engels

boek direct
Latijns-Amerika
Mexico
06-07-2020 ― 08-07-2020

FLEX-training

Dit is een FLEX-training in Spanje.

Tijdzone: America/Mexico_City

boek direct