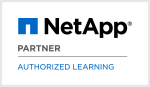 Administration of OnCommand Unified Manager and Integrated Solutions (AOCMCDOT)
Who Should Attend
NetApp employees or NetApp partners who are support engineers, Professional Services workers, or Customer Support Services workers
Course Objectives
By the end of this course, you should be able to:
Configure Unified Manager
Monitor the health of your storage infrastructure
Monitor the protection relationships and storage objects in your storage infrastructure
Use annotations to categorize storage objects
Configure thresholds, event retention settings, and alerts
Identify and resolve issues in your storage environment
Export data from Unified Manager to a comma-separated-values (CSV) file
Configure Workflow Automation
Execute built-in workflows for storage provisioning, data protection, and decommissioning
Schedule workflows for future execution and review their impact on resource reservation
Modify built-in workflows by adding approval points, by looping commands, and by adding commands
Configure Performance Manager
Use Performance Manager to monitor the performance of your storage systems
Follow On Courses
Course Content
Discover how OnCommand® data management software lets you automate, analyze, and realize the effective, cost-efficient storage management that you need to succeed. In this course, you learn about OnCommand Unified Manager, management software that reduces complexity by using a unified approach to storage management. In this course, you also learn about the features and benefits of OnCommand Workflow Automation.
Online training
Duur 2 dagen
Prijs
(excl. BTW)
Nederland:

1.800,- €

België:

1.800,- €
Klassikale training
Duur 2 dagen
Prijs
(excl. BTW)
Nederland:

1.800,- €

België:

1.800,- €




NetApp Training Units:

24 NTU
Klik op de plaats & boek online
Beschikbare data
Trainingen gemarkeerd met het groene vinkje vinden gegarandeerd plaats. Fast Lane levert alle gegarandeerde trainingen uit, ongeacht het aantal ingeschreven studenten. Alleen in geval van overmacht of andere onverwachte gebeurtenissen, zoals ongelukken of ziekte van de docent, kan het voorkomen dat de training niet plaatsvindt.
Trainingen gemarkeerd met het gele vinkje vinden gegarandeerd plaats op het moment dat er zich nog 1 student inschrijft voor de desbetreffende training.
Instructor-Led Online Training
Trainingen gemarkeerd met het groene blad zijn
FLEX
-trainingen: trainingen die zowel klassikaal als online gevolgd kunnen worden. U kiest zelf de door u gewenste leervorm.
Nederland
Op dit moment is deze training in dit land niet beschikbaar in het open rooster. De kans is echter groot dat wij u toch een passende oplossing kunnen bieden. Wij horen graag wat uw specifieke wensen zijn. U bereikt ons via 030 658 2131 of info@flane.nl. We helpen u graag!
Verenigde Staten & Canada
Verenigde Staten
14-04-2020 ― 15-04-2020

Gegarandeerd

Online training

Tijdzone: US/Central

Taal:

Engels

boek direct

02-06-2020 ― 03-06-2020

Online training

Tijdzone: US/Eastern

Taal:

Engels

boek direct

08-09-2020 ― 09-09-2020

Online training

Tijdzone: US/Pacific

Taal:

Engels

boek direct

13-10-2020 ― 14-10-2020

Online training

Tijdzone: US/Eastern

Taal:

Engels

boek direct

14-12-2020 ― 15-12-2020

Online training

Tijdzone: US/Central

Taal:

Engels

boek direct
Canada
14-04-2020 ― 15-04-2020

Gegarandeerd

Online training

Tijdzone: Canada/Central

Taal:

Engels

boek direct

02-06-2020 ― 03-06-2020

Online training

Tijdzone: Canada/Eastern

Taal:

Engels

boek direct

08-09-2020 ― 09-09-2020

Online training

Tijdzone: Canada/Pacific

Taal:

Engels

boek direct

13-10-2020 ― 14-10-2020

Online training

Tijdzone: Canada/Eastern

Taal:

Engels

boek direct

14-12-2020 ― 15-12-2020

Online training

Tijdzone: Canada/Central

Taal:

Engels

boek direct
Azië / Pacific
Australië
03-06-2020 ― 04-06-2020

Online training

Tijdzone: Australia/Melbourne

Taal:

Engels

boek direct
India
27-04-2020 ― 28-04-2020

Online training

Tijdzone: Asia/Calcutta

Taal:

Engels

boek direct

25-05-2020 ― 26-05-2020

Online training

Tijdzone: Asia/Calcutta

Taal:

Engels

boek direct

26-08-2020 ― 27-08-2020

Online training

Tijdzone: Asia/Calcutta

Taal:

Engels

boek direct

26-09-2020 ― 27-09-2020

Online training

Tijdzone: Asia/Calcutta

Taal:

Engels

boek direct

29-10-2020 ― 30-10-2020

Online training

Tijdzone: Asia/Calcutta

Taal:

Engels

boek direct

25-11-2020 ― 26-11-2020

Online training

Tijdzone: Asia/Calcutta

Taal:

Engels

boek direct