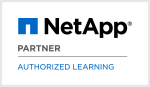 ONTAP Cluster Administration (ONTAP 9.7) (ONTAP9ADM)
Who should attend
Network Engineers
Channel Partners
System Engineers
NetApp Customers
Certifications
This course is part of the following Certifications:
Prerequisites
ONTAP Cluster Fundamentals (web based)
ONTAP NAS Fundamentals (web based)
ONTAP SAN Fundamentals (web based)
Introduction to Networking in Clustered Data ONTAP (web based)
Course Objectives
Manage ONTAP administrators
Configure and manage storage resources
Configure and manage networking resources
Create and configure a storage virtual machine (SVM)
Create and manage FlexVol volumes
Implement storage efficiency features
Create protocol servers within an SVM
Configure basic data protection features
Perform administrative and preventive maintenance tasks
Follow On Courses
Course Content
This three-day, instructor-led course uses lecture and hands-on exercises to teach the basic administration tasks of an ONTAP 9.7 cluster. You use the cluster shell and ONTAP System Manager to manage storage and network resources. ONTAP Cluster Administration is an intermediate course in a comprehensive learning path for NetApp customers, partners, and employees. This course is generally taught with the two-day ONTAP Data Protection course.
Online training
Duur 3 dagen
Prijs
(excl. BTW)
Klassikale training
Duur 3 dagen
Prijs
(excl. BTW)
Nederland:

2.700,- €

België:

2.700,- €

NetApp Training Units:

36 NTU
Beschikbare data
Trainingen gemarkeerd met het groene vinkje vinden gegarandeerd plaats. Fast Lane levert alle gegarandeerde trainingen uit, ongeacht het aantal ingeschreven deelnemers. Alleen in geval van overmacht of andere onverwachte gebeurtenissen, zoals ongelukken of ziekte van de trainer, kan het voorkomen dat de training niet plaatsvindt.
Trainingen gemarkeerd met het gele vinkje vinden gegarandeerd plaats op het moment dat er zich nog 1 deelnemer inschrijft voor de desbetreffende training.
Instructor-led Online Training: Dit is een Instructor-Led Online (ILO) training: een online training verzorgd door een trainer.
Trainingen gemarkeerd met het groene blad zijn
FLEX
-trainingen: trainingen die zowel klassikaal als online gevolgd kunnen worden. Je kiest zelf de gewenste leervorm.
Nederlands
Tijdzone Central European Time (CET)
Engels
Tijdzone Central European Time (CET)
1 uur tijdsverschil
5 uur tijdsverschil
Online training
Tijdzone: Eastern Daylight Time (EDT)
Gegarandeerde doorgang
Online training
Tijdzone: Eastern Daylight Time (EDT)
Gegarandeerde doorgang
6 uur tijdsverschil
7 uur tijdsverschil
9 uur tijdsverschil
10 uur tijdsverschil
Online training
Tijdzone: Australian Eastern Daylight Saving Time (AEDT)
Gegarandeerde doorgang
Frans
Tijdzone Central European Time (CET)
Online training
Dit is een FLEX-training in het Frans.


Tijdzone: Central European Summer Time (CEST)
Online training
Dit is een FLEX-training in het Frans.


Tijdzone: Central European Summer Time (CEST)
Online training
Dit is een FLEX-training in het Frans.


Tijdzone: Central European Time (CET)
Duits
Tijdzone Central European Time (CET)
Italiaans
Tijdzone Central European Time (CET)
Online training
Dit is een FLEX-training in het Italiaans.


Tijdzone: Central European Summer Time (CEST)
Online training
Dit is een FLEX-training in het Italiaans.


Tijdzone: Central European Summer Time (CEST)
Online training
Dit is een FLEX-training in het Italiaans.


Tijdzone: Central European Summer Time (CEST)
Online training
Dit is een FLEX-training in het Italiaans.


Tijdzone: Central European Time (CET)