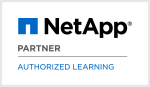 ONTAP NFS Administration (NFSAD)
Course Overview
This course extends the NFS information that is found in the ONTAP Cluster Administration course. This course reviews NFS and explores in more detail different NFS versions and the features of ONTAP 9 software that support the NFS protocol. The exercises are accomplished using ONTAP 9 software.
Who Should Attend
Professionals who implement NFS solutions who use NetApp storage systems.
NetApp employees, channel partners, original equipment manufacturer (OEM) partners, authorized learning partners, and customers.
Prerequisites
ONTAP Cluster fundamentals
ONTAP Cluster Administration course
Familiarity with UNIX and Linux operating systems
Course Objectives
This course focuses on enabling you to do the following:
Define and describe NFS protocol versions
Configure clustered ONTAP 9 for NFSv3,NFSv4,and NFSv4.1 with parallel NFS (pNFS)
Configure Kerberos in a Linux and NetApp ONTAP 9 environment using Windows Active Directory authentication
Discuss performance management and troubleshooting for NetApp storage systems and clients
Klassikale training
Duur 1 dagen
Prijs
(excl. BTW)
Nederland:

900,- €

België:

900,- €




NetApp Training Units:

12 NTU
Klik op de plaats & boek online
Beschikbare data
Trainingen gemarkeerd met het groene vinkje vinden gegarandeerd plaats. Fast Lane levert alle gegarandeerde trainingen uit, ongeacht het aantal ingeschreven studenten. Alleen in geval van overmacht of andere onverwachte gebeurtenissen, zoals ongelukken of ziekte van de docent, kan het voorkomen dat de training niet plaatsvindt.
Instructor-Led Online Training
Trainingen gemarkeerd met het groene blad zijn
FLEX
-trainingen: trainingen die zowel klassikaal als online gevolgd kunnen worden. U kiest zelf de door u gewenste leervorm.
FLEX-trainingen

Een FLEX-training is een Engelstalige training die plaatsvindt in één van de Fast Lane-trainingscentra in Europa en die online gevolgd kan worden vanaf uw eigen locatie. Bekijk hieronder alle beschikbare FLEX-data.

17-10-2019

FLEX-training

Dit is een FLEX-training in Engels.

Tijdzone: Europe/London

boek direct

18-11-2019

FLEX-training

Dit is een FLEX-training in Engels.

Tijdzone: Asia/Jerusalem

boek direct

28-11-2019

FLEX-training

Dit is een FLEX-training in Engels.

Tijdzone: Europe/London

boek direct

02-12-2019

FLEX-training

Dit is een FLEX-training in Engels.

Tijdzone: Europe/Bratislava

boek direct

23-01-2020

FLEX-training

Dit is een FLEX-training in Engels.

Tijdzone: Europe/London

boek direct

20-02-2020

FLEX-training

Dit is een FLEX-training in Engels.

Tijdzone: Europe/London

boek direct

19-03-2020

FLEX-training

Dit is een FLEX-training in Engels.

Tijdzone: Europe/London

boek direct

30-04-2020

FLEX-training

Dit is een FLEX-training in Engels.

Tijdzone: Europe/London

boek direct

25-06-2020

FLEX-training

Dit is een FLEX-training in Engels.

Tijdzone: Europe/London

boek direct
Europa
Duitsland
Groot-Brittannië
17-10-2019

FLEX-training

Dit is een FLEX-training in Engels.

Tijdzone: Europe/London

boek direct

28-11-2019

FLEX-training

Dit is een FLEX-training in Engels.

Tijdzone: Europe/London

boek direct

23-01-2020

FLEX-training

Dit is een FLEX-training in Engels.

Tijdzone: Europe/London

boek direct

20-02-2020

FLEX-training

Dit is een FLEX-training in Engels.

Tijdzone: Europe/London

boek direct

19-03-2020

FLEX-training

Dit is een FLEX-training in Engels.

Tijdzone: Europe/London

boek direct

30-04-2020

FLEX-training

Dit is een FLEX-training in Engels.

Tijdzone: Europe/London

boek direct

25-06-2020

FLEX-training

Dit is een FLEX-training in Engels.

Tijdzone: Europe/London

boek direct
Slovakia
02-12-2019

FLEX-training

Dit is een FLEX-training in Engels.

Tijdzone: Europe/Bratislava

boek direct
Verenigde Staten & Canada
Verenigde Staten
01-10-2019

Gegarandeerd

FLEX-training

Dit is een FLEX-training in Engels.

Tijdzone: US/Eastern

boek direct

05-11-2019

Gegarandeerd

Online Training

Tijdzone: US/Central

Taal:

Engels

boek direct

03-12-2019

FLEX-training

Dit is een FLEX-training in Engels.

Tijdzone: US/Pacific

boek direct
Canada
05-11-2019

Online Training

Tijdzone: Canada/Central

Taal:

Engels

boek direct
Midden Oosten
Israel
18-11-2019

FLEX-training

Dit is een FLEX-training in Engels.

Tijdzone: Asia/Jerusalem

boek direct