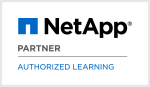 Data ONTAP SAN Implementation (SANIMP)
This course has replaced the San Implementation (SANIW) course.
Who Should Attend
Professionals who implement SAN solutions that use NetApp storage systems
Certifications
This course is part of the following Certifications:
Prerequisites
Certification as a NetApp Data Management Administrator
Completion of two courses:
Course Objectives
By the end of this course you should be able to:
Define and describe SANs that use FC, FCoE, and iSCSI protocols
Configure Windows Server 2012, Red Hat® 6.4, and Data ONTAP® systems for iSCSI connectivity
Configure Windows Server 2012, Red Hat 6.4, and Data ONTAP systems for FC and FCoE connectivity
Use FC and iSCSI protocols to create and access LUNs from Windows Server 2012 and Red Hat 6.4 systems
Install and use SnapDrive® for Windows and SnapDrive for Linux software to create LUNs and Snapshot™ LUNs, to restore LUNs from Snapshot copies, and to remove LUNs
Size, clone, back up, and recover LUNs on Windows Server 2012 and Red Hat 6.4 systems
Troubleshoot SAN connectivity and performance issues
Follow On Courses
Course Content
In this workshop course, you learn how to connect Windows® and Linux® hosts via Fibre Channel (FC) and iSCSI protocols to NetApp® SANs.
Klassikale training
Duur 3 dagen
Prijs
(excl. BTW)
Nederland:

2.700,- €

België:

2.700,- €




NetApp Training Units:

36 NTU
Klik op de plaats & boek online
Beschikbare data
Instructor-Led Online Training
Trainingen gemarkeerd met het groene blad zijn
FLEX
-trainingen: trainingen die zowel klassikaal als online gevolgd kunnen worden. U kiest zelf de door u gewenste leervorm.
Nederland
Op dit moment is deze training in dit land niet beschikbaar in het open rooster. De kans is echter groot dat wij u toch een passende oplossing kunnen bieden. Wij horen graag wat uw specifieke wensen zijn. U bereikt ons via 030 658 2131 of info@flane.nl. We helpen u graag!
FLEX-trainingen

Een FLEX-training is een Engelstalige training die plaatsvindt in één van de Fast Lane-trainingscentra in Europa en die online gevolgd kan worden vanaf uw eigen locatie. Bekijk hieronder alle beschikbare FLEX-data.

13-01-2020 - 15-01-2020

FLEX-training

Dit is een FLEX-training in Engels.

Tijdzone: Europe/Ljubljana

boek direct

03-02-2020 - 05-02-2020

FLEX-training

Dit is een FLEX-training in Engels.

Tijdzone: Europe/Bratislava

boek direct

12-02-2020 - 14-02-2020

FLEX-training

Dit is een FLEX-training in Engels.

Tijdzone: Europe/London

boek direct

17-02-2020 - 19-02-2020

FLEX-training

Dit is een FLEX-training in Engels.

Tijdzone: Europe/Prague

boek direct

16-03-2020 - 18-03-2020

FLEX-training

Dit is een FLEX-training in Engels.

Tijdzone: Europe/Budapest

boek direct

20-05-2020 - 22-05-2020

FLEX-training

Dit is een FLEX-training in Engels.

Tijdzone: Europe/London

boek direct

01-06-2020 - 03-06-2020

FLEX-training

Dit is een FLEX-training in Engels.

Tijdzone: Europe/Sofia

boek direct

31-08-2020 - 02-09-2020

FLEX-training

Dit is een FLEX-training in Engels.

Tijdzone: Europe/Bucharest

boek direct

12-10-2020 - 14-10-2020

FLEX-training

Dit is een FLEX-training in Engels.

Tijdzone: Europe/Belgrade

boek direct

30-11-2020 - 02-12-2020

FLEX-training

Dit is een FLEX-training in Engels.

Tijdzone: Europe/Ljubljana

boek direct
Europa
Duitsland
Bulgarije
01-06-2020 - 03-06-2020

FLEX-training

Dit is een FLEX-training in Engels.

Tijdzone: Europe/Sofia

boek direct
Groot-Brittannië
12-02-2020 - 14-02-2020

FLEX-training

Dit is een FLEX-training in Engels.

Tijdzone: Europe/London

boek direct

20-05-2020 - 22-05-2020

FLEX-training

Dit is een FLEX-training in Engels.

Tijdzone: Europe/London

boek direct
Hongarije
16-03-2020 - 18-03-2020

FLEX-training

Dit is een FLEX-training in Engels.

Tijdzone: Europe/Budapest

boek direct
Roemenië
31-08-2020 - 02-09-2020

FLEX-training

Dit is een FLEX-training in Engels.

Tijdzone: Europe/Bucharest

boek direct
Servië
12-10-2020 - 14-10-2020

FLEX-training

Dit is een FLEX-training in Engels.

Tijdzone: Europe/Belgrade

boek direct
Slovakia
03-02-2020 - 05-02-2020

FLEX-training

Dit is een FLEX-training in Engels.

Tijdzone: Europe/Bratislava

boek direct
Slovenië
13-01-2020 - 15-01-2020

FLEX-training

Dit is een FLEX-training in Engels.

Tijdzone: Europe/Ljubljana

boek direct

30-11-2020 - 02-12-2020

FLEX-training

Dit is een FLEX-training in Engels.

Tijdzone: Europe/Ljubljana

boek direct
Tsjechië
17-02-2020 - 19-02-2020

FLEX-training

Dit is een FLEX-training in Engels.

Tijdzone: Europe/Prague

boek direct
Verenigde Staten & Canada
Verenigde Staten
11-03-2020 - 13-03-2020

Online Training

Tijdzone: US/Central

Taal:

Engels

boek direct

03-06-2020 - 05-06-2020

Online Training

Tijdzone: US/Pacific

Taal:

Engels

boek direct

19-08-2020 - 21-08-2020

Online Training

Tijdzone: US/Central

Taal:

Engels

boek direct

04-11-2020 - 06-11-2020

Online Training

Tijdzone: US/Eastern

Taal:

Engels

boek direct