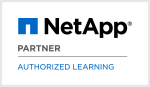 ONTAP Cluster Administration and Data Protection Bundle (ONTAP 9.6) (CDOTDP9)
Sign up for this course and receive 2 free exam vouchers!
Prerequisites
Completion of the following web based training modules:
ONTAP Cluster Fundamentals (WBT)
ONTAP NAS Fundamentals (WBT)
ONTAP SAN Fundamentals (WBT)
ONTAP Data Protection Fundamentals (WBT)
Course Objectives
By the end of this course, you should be able to:
Describe how ONTAP 9 fits into NetApp's Cloud and Data Fabric strategy
Identify supported ONTAP platforms
Define ONTAP cluster components
Create a cluster
Manage ONTAP administrators
Configure and manage storage resources
Configure and manage networking resources
Describe a Storage Virtual Machine's (SVM's) role in NetApp's storage architecture
Create and configure an SVM
Create and manage FlexVols
Implement storage efficiency features
Create protocol servers within an SVM
Upgrade and revert ONTAP patches and releases
Describe the levels on which ONTAP protects data
Describe the ONTAP 9 data protection features
Understand the various data mirroring relationships available with ONTAP 9
Configure and operate SnapMirror and SnapVault data replication
Demonstrate Storage Virtual Machine data protection
Explain the components and configuration involved with SyncMirror and MetroCluster
Describe NDMP protocol operation, configuration and management
Pre/Post Assessment
Course Content
This 5 day course comprises of the 3 day ONTAP 9.0 Cluster Administration (ONTAP9ADM) followed by the 2 day ONTAP 9.0 Data Protection Administration (DATAPROT9) courses.
The first 3 days use lecture and hands-on exercises to teach basic administration and configuration of a cluster. The hands-on labs allow you to practice working with ONTAP features and manage your storage and network resources using the cluster shell and OnCommand System Manager.
Students spend the final 2 days learning the core technologies of ONTAP Data protection administration. You will learn how to implement and manage SnapMirror, SnapVault, and SnapLock technology which are used to replicate and restore mission-critical data in the enterprise. The course also surveys real-world scenarios and use cases to teach you when to use each of the NetApp protection solutions. Backup and restore operations are taught using the command line and OnCommand System Manager.
Online training
Duur 5 dagen
Prijs
(excl. BTW)
Nederland:

4.500,- €

België:

4.500,- €
Klassikale training
Duur 5 dagen
Prijs
(excl. BTW)
Nederland:

4.500,- €

België:

4.500,- €




NetApp Training Units:

60 NTU
Klik op de plaats & boek online
Beschikbare data
Trainingen gemarkeerd met het groene vinkje vinden gegarandeerd plaats. Fast Lane levert alle gegarandeerde trainingen uit, ongeacht het aantal ingeschreven studenten. Alleen in geval van overmacht of andere onverwachte gebeurtenissen, zoals ongelukken of ziekte van de docent, kan het voorkomen dat de training niet plaatsvindt.
Trainingen gemarkeerd met het gele vinkje vinden gegarandeerd plaats op het moment dat er zich nog 1 student inschrijft voor de desbetreffende training.
Instructor-Led Online Training
Trainingen gemarkeerd met het groene blad zijn
FLEX
-trainingen: trainingen die zowel klassikaal als online gevolgd kunnen worden. U kiest zelf de door u gewenste leervorm.
Nederland
08-06-2020 ― 12-06-2020

Gegarandeerd

Online training

Tijdzone: Europe/Amsterdam

boek direct

31-08-2020 ― 04-09-2020

Utrecht

boek direct
Europa
Bulgarije
02-11-2020 ― 06-11-2020

Online training

Tijdzone: Europe/Sofia

Taal:

Engels

boek direct
Croatia
31-08-2020 ― 04-09-2020

Online training

Tijdzone: Europe/Zagreb

Taal:

Engels

boek direct
Frankrijk
20-04-2020 ― 24-04-2020

Online training

Tijdzone: Europe/Paris

Taal:

Frans

boek direct

15-06-2020 ― 19-06-2020

Online training

Tijdzone: Europe/Paris

Taal:

Frans

boek direct

20-07-2020 ― 24-07-2020

Parijs

boek direct

31-08-2020 ― 04-09-2020

Parijs

boek direct

19-10-2020 ― 23-10-2020

Parijs

boek direct

23-11-2020 ― 27-11-2020

Parijs

boek direct
Groot-Brittannië
Italië
11-05-2020 ― 15-05-2020

Online training

Tijdzone: Europe/Rome

Taal:

Italiaans

boek direct

15-06-2020 ― 19-06-2020

Online training

Tijdzone: Europe/Rome

Taal:

Italiaans

boek direct

06-07-2020 ― 10-07-2020

Rome

boek direct

31-08-2020 ― 04-09-2020

Milaan

boek direct

19-10-2020 ― 23-10-2020

Rome

boek direct

23-11-2020 ― 27-11-2020

Milaan

boek direct
Slovenië
04-05-2020 ― 08-05-2020

Online training

Tijdzone: Europe/Ljubljana

Taal:

Engels

boek direct
Tsjechië
08-06-2020 ― 12-06-2020

Online training

Tijdzone: Europe/Prague

Taal:

Engels

boek direct

21-09-2020 ― 25-09-2020

Online training

Tijdzone: Europe/Prague

Taal:

Engels

boek direct
Verenigde Staten & Canada
Azië / Pacific
Australië
20-04-2020 ― 24-04-2020

Online training

Tijdzone: Australia/Melbourne

Taal:

Engels

boek direct

04-05-2020 ― 08-05-2020

Online training

Tijdzone: Australia/Canberra

Taal:

Engels

boek direct

08-06-2020 ― 12-06-2020

Online training

Tijdzone: Australia/Sydney

Taal:

Engels

boek direct

13-07-2020 ― 17-07-2020

Online training

Tijdzone: Australia/Perth

Taal:

Engels

boek direct

03-08-2020 ― 07-08-2020

Online training

Tijdzone: Australia/Melbourne

Taal:

Engels

boek direct

07-09-2020 ― 11-09-2020

Online training

Tijdzone: Australia/Sydney

Taal:

Engels

boek direct

12-10-2020 ― 16-10-2020

Online training

Tijdzone: Australia/Adelaide

Taal:

Engels

boek direct

09-11-2020 ― 13-11-2020

Online training

Tijdzone: Australia/Melbourne

Taal:

Engels

boek direct

07-12-2020 ― 11-12-2020

Online training

Tijdzone: Australia/Sydney

Taal:

Engels

boek direct