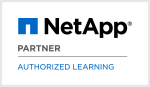 ONTAP MetroCluster Installation (MCCIIW)
Who Should Attend
NetApp customers, partners, and employees
Prerequisites
!

NA-D8CADM

!

NA-DATAPROT
Basic SAN knowledge
Course Objectives
By the end of this course, you should be able to:
Describe the major architectural components of a MetroCluster environment in ONTAP 9
Cable nodes, back-end FC switches and FibreBridge devices
Set up bridges and back-end FC switches
Configure the clusters at both sites in a MetroCluster environment
Set up a MetroCluster configuration and serve data to clients
Detect and recover from failures in a MetroCluster environment
Install and configure Tiebreaker software
Course Content
MetroCluster software is a unique high-availability and disaster-recovery solution. In this advanced course, you learn how to install, configure and administer a MetroCluster environment. Hands-on labs, available in the ONTAP 9 environment, allow you to practice setting up the configuration, identify component failures and practice recovery steps.
Klassikale training
Duur 2 dagen
Prijs
(excl. BTW)
Nederland:

1.800,- €

België:

1.800,- €




NetApp Training Units:

24 NTU
Beschikbare data
Klik op de plaats & boek online
Beschikbare data
Instructor-Led Online Training
Nederland
Op dit moment is deze training in dit land niet beschikbaar in het open rooster. De kans is echter groot dat wij u toch een passende oplossing kunnen bieden. Wij horen graag wat uw specifieke wensen zijn. U bereikt ons via 030 658 2131 of info@flane.nl. We helpen u graag!
Latijns-Amerika
Brazilië
21-05-2019 - 22-05-2019

Online Training

Tijdzone: America/Sao_Paulo

Taal: Purtugees

boek direct

20-08-2019 - 21-08-2019

Online Training

Tijdzone: America/Sao_Paulo

Taal: Purtugees

boek direct

11-11-2019 - 12-11-2019

Online Training

Tijdzone: America/Sao_Paulo

Taal: Purtugees

boek direct
Chile
11-06-2019 - 12-06-2019

Online Training

Tijdzone: America/Santiago

Taal: Spanje

boek direct

03-09-2019 - 04-09-2019

Online Training

Tijdzone: America/Santiago

Taal: Spanje

boek direct
Mexico
15-04-2019 - 16-04-2019

Online Training

Tijdzone: America/Mexico_City

Taal: Spanje

boek direct

08-07-2019 - 09-07-2019

Online Training

Tijdzone: America/Mexico_City

Taal: Spanje

boek direct

14-10-2019 - 15-10-2019

Online Training

Tijdzone: America/Mexico_City

Taal: Spanje

boek direct