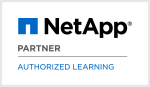 ONTAP Compliance Solution Administration (OCSA)
Who Should Attend
Data Protection Administrations
Security Engineers
NetApp Partners
NetApp Employees
Course Objectives
Describe the data protection features that are integrated into ONTAP 9 data-management software
Describe how to use SnapLock compliance software for data retention
Explain how to manage encryption keys
Explain how NetApp Storage Encryption (NSE) provides full-disk encryption (FDE) by using self-encrypting drives.
Explain how NetApp Volume Encryption (NVE) provides a software-based method to encrypt and protect data on any disk type.
Course Content
ONTAP Compliance Solution Administration describes the architecture and functionality of the integrated data protection compliance features and benefits in ONTAP 9 data-management software. You will learn SnapLock software, key management features and encryption technologies. You will learn the administration, configuration and management of the integrated data protection compliance features.
ONTAP Compliance Solutions Administration is intended for data protection administrators of any experience level.
Klassikale training
Duur 1 dagen
Prijs
(excl. BTW)
Nederland:

900,- €

België:

900,- €




NetApp Training Units:

12 NTU
Klik op de plaats & boek online
Beschikbare data
Trainingen gemarkeerd met het gele vinkje vinden gegarandeerd plaats op het moment dat er zich nog 1 student inschrijft voor de desbetreffende training.
Instructor-Led Online Training
Trainingen gemarkeerd met het groene blad zijn
FLEX
-trainingen: trainingen die zowel klassikaal als online gevolgd kunnen worden. U kiest zelf de door u gewenste leervorm.
Nederland
Op dit moment is deze training in dit land niet beschikbaar in het open rooster. De kans is echter groot dat wij u toch een passende oplossing kunnen bieden. Wij horen graag wat uw specifieke wensen zijn. U bereikt ons via 030 658 2131 of info@flane.nl. We helpen u graag!
FLEX-trainingen

Een FLEX-training is een Engelstalige training die plaatsvindt in één van de Fast Lane-trainingscentra in Europa en die online gevolgd kan worden vanaf uw eigen locatie. Bekijk hieronder alle beschikbare FLEX-data.

09-03-2020

FLEX-training

Dit is een FLEX-training in Engels.

Tijdzone: Europe/Prague

boek direct

18-05-2020

FLEX-training

Dit is een FLEX-training in Engels.

Tijdzone: Europe/Bratislava

boek direct

15-06-2020

FLEX-training

Dit is een FLEX-training in Engels.

Tijdzone: Europe/Ljubljana

boek direct

07-09-2020

FLEX-training

Dit is een FLEX-training in Engels.

Tijdzone: Europe/London

boek direct

14-09-2020

FLEX-training

Dit is een FLEX-training in Engels.

Tijdzone: Europe/Sofia

boek direct

23-11-2020

FLEX-training

Dit is een FLEX-training in Engels.

Tijdzone: Europe/Zagreb

boek direct

30-11-2020

FLEX-training

Dit is een FLEX-training in Engels.

Tijdzone: Europe/London

boek direct
Europa
Duitsland
Bulgarije
14-09-2020

FLEX-training

Dit is een FLEX-training in Engels.

Tijdzone: Europe/Sofia

boek direct
Croatia
23-11-2020

FLEX-training

Dit is een FLEX-training in Engels.

Tijdzone: Europe/Zagreb

boek direct
Groot-Brittannië
07-09-2020

FLEX-training

Dit is een FLEX-training in Engels.

Tijdzone: Europe/London

boek direct

30-11-2020

FLEX-training

Dit is een FLEX-training in Engels.

Tijdzone: Europe/London

boek direct
Slovakia
18-05-2020

FLEX-training

Dit is een FLEX-training in Engels.

Tijdzone: Europe/Bratislava

boek direct
Slovenië
15-06-2020

FLEX-training

Dit is een FLEX-training in Engels.

Tijdzone: Europe/Ljubljana

boek direct
Tsjechië
09-03-2020

FLEX-training

Dit is een FLEX-training in Engels.

Tijdzone: Europe/Prague

boek direct
Verenigde Staten & Canada
Verenigde Staten
27-03-2020

Online Training

Tijdzone: US/Eastern

Taal:

Engels

boek direct

05-06-2020

Online Training

Tijdzone: US/Pacific

Taal:

Engels

boek direct

21-08-2020

Online Training

Tijdzone: US/Central

Taal:

Engels

boek direct

23-10-2020

Online Training

Tijdzone: US/Pacific

Taal:

Engels

boek direct